Holiday Dining Experiences
If you're joining us at the Lodge for the holidays, don't miss out on the bountiful feasts for the whole family.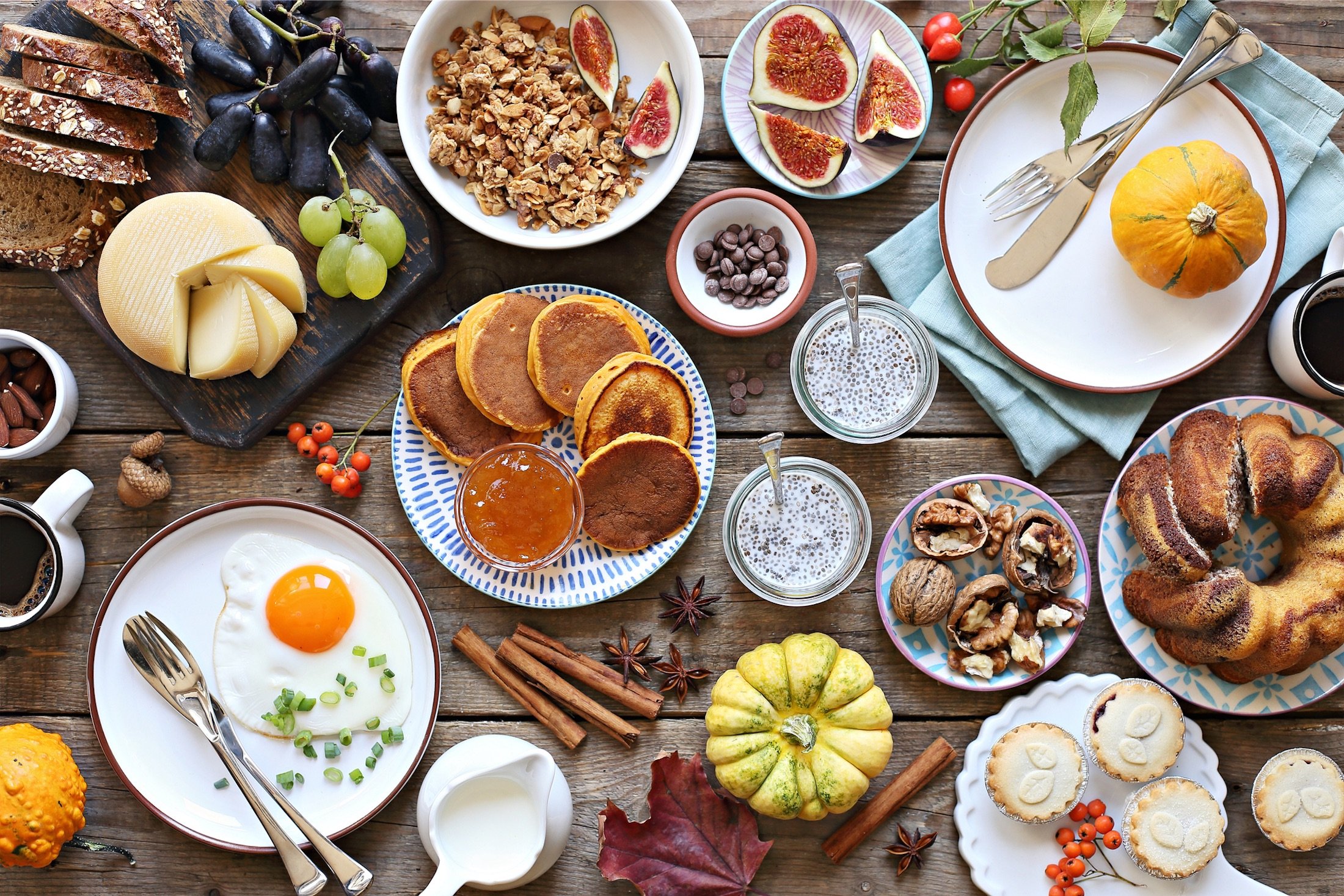 Come one, come all, to The Great Hall for a delectable all-you-can-eat Brunch Buffet, Thanksgiving style! Look forward to tasty dishes like a Thanksgiving Charcuterie Station, Florentine Benny, an exquisite Carving Station and Lemon Ricotta Pancakes!
$87 PER ADULT | $43.50 PER CHILD (6 – 12)
Thanksgiving Brunch in The Great Hall
October 8 | 10:00 AM – 2:00 PM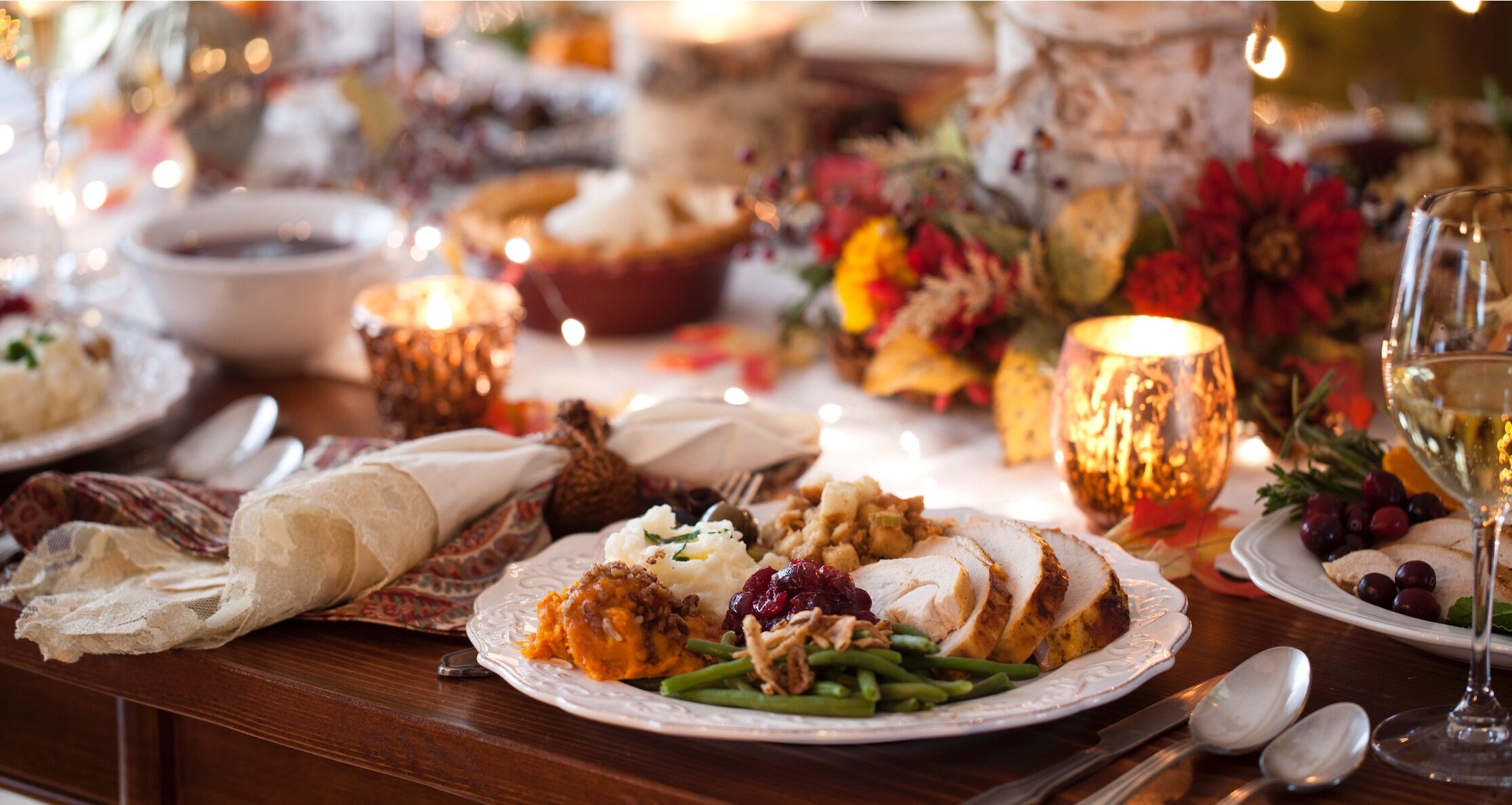 Give thanks to a never-ending feast where you can mix and match all your Thanksgiving favourites. Join us Sunday in The Beauvert Ballroom and take your pick from the grand buffet featuring Chef Carved Alberta Turkey, Slow Roasted Prime Rib or a variety of fresh seafood options. Stack your plate with delectable sides like Sage Stuffing drizzled in Homemade Gravy and finish off with the perfect piece of Pumpkin Pie!
$93 PER ADULT | $46.50 PER CHILD (6 – 12)
Thanksgiving Dinner in The Beauvert Ballroom
October 8 | 5:30 PM – 10:00 PM
Thanksgiving Brunch

in The Great Hall | $87 per adult | $43.50 per child (6 – 12)

Buffet Assortment

Assorted Viennoiserie and Toast Station

Whipped Butter, Jams and Jellies

Beet Cured Salmon Gravlax

Dill, Extra Virgin Olive Oil, Chive Crème Fraiche

Charcuterie and Cheese Station

Locally sourced pates, deli meats and cheeses mustards, fruit compotes and fresh baguette

Tomato & Mozzarella Salad

Aged Balsamic, Basil

Yogurt & Granola

Fruit Compote, Granola

Scrambled Eggs

Grated Cheddar and Chives

Grilled Roma Tomato & Roasted Mushrooms

Crispy Breakfast Potatoes

Mac & Cheese

Orecchiette, Herbed Boursin, Sweet Peas, Focaccia Crumble

Eggs Benedict Station

Grilled Tomato, Mushrooms, Spinach Smoked Salmon, Peameal Bacon Chopped Parsley, Chives, Togarashi Spice, 3 Hollandaise Sauces (Choron, Maltaise, Citrus)

Lemon Ricotta Pancake

Amaretto Chantilly, Poached Apples, Toasted Almonds

Carving Station

Moroccan Spiced Leg of Lamb

Lamb Jus, Charred Pineapple Salsa

Desserts

Pumpkin Spiced Cheesecake

Cranberry Apple Crisp | GF
Thanksgiving Dinner

in The Beauvert Ballroom | $93 per adult | $46.50 per child (6 – 12)

Appetizers

Fresh Baked Seasonal Loaves

Roasted Squash Soup

Crème Fraiche and Toasted Pumpkin Seeds

Salad Station

Autumn Harvest Salad

Cherry Tomatoes, English Cucumbers, Garlic Croutons, Crumbled Bacon, Shaved Asiago, Creamy Honey Dijon Dressing, Maple Balsamic & Roast Garlic Caesar Dressing

Marinated Beetroot Salad

Alberta Goat Cheese, Toasted Pecans, Balsamic Drizzle

Cold Station

Meuwly's Assorted Charcuteries And Cheese

Pickled Vegetables, Mediterranean Olives, Mustards, Chutney

Seafood Display

Horseradish Cocktail Sauce, Citrus Wedges, Spicy Mayo

Carving Station

Slow Roasted AAA Alberta Prime Rib

Yorkshire Pudding, Red Wine Jus, Horseradish

Roasted Alberta Turkey Breast

Apple and Sage Stuffing

Confit Turkey Thigh

Traditional Gravy, Cranberry Orange Compote

Hot Station

Roasted Root Vegetable Medley

Butter Roasted Brussel Sprouts

Pine nuts, Lemon Zest, Brown Butter

Yukon Gold Mashed Potatoes

Mushroom Ravioli

Olive Oil, Confit Gem Tomatoes

Desserts

Pastry Chef's Selection of Thanksgiving Sweets

Cranberry & White Chocolate Bread Pudding

Dark Chocolate Profiterole
Christmas Eve Dinner

in The Beauvert Ballroom | $119 per adult | $59.50 per child (6 - 12)

Soup & Salad

Roasted Maple Squash,

Crème Fraiche, Candied Walnut Crumble (available DF & NF)

Roasted Beet, Red Onion and Radicchio Salad

Chive Sour Cream Dressing

Cheese & Charcuterie

Mustards, Olives, Cornichon

Salmon

Celery Root Puree, Parsley Sauce

In the Pan

Turkey and Stuffing

Savoury Stuffing, Maple Glazed Parsnips, Winter Squash, Brussels Sprouts

Festive Treats

White Chocolate Pistachio Cheesecake

Kid's Dessert Corner

Rudolph Milk Chocolate Mousse Cups | GF

Santa Claus Vanilla Whoopie Pies
Festival of Christmas Brunch

in The Great Hall | $107 per person

Available December 24, 25 & 31 and January 1

Buffet Assortment

Assorted Juices, Smoothies and Antioxidant Boosters

Selection of Freshly Baked Breakfast Pastries | VEG

Bread Station

Sliced Breads VEG, Bagels VEG, Butter VEG/NF, Fruit Preserves VEG/NF Cream Cheese VEG/GF/NF

Seasons Finest Sliced Fruits V/DF/GF/NF

Muesli Bar

Greek Yogurt VEG/GF/NF, Coconut Yogurt GF/VEG, Oats V/GF/DF, Chia Seed V/GF/DF, Flax Seed V/GF/DF, Fresh Berries V/GF/DF, Honey VEG/GF/DF, Honey Almond Granola VEG/GF

Selection of Local Charcuterie and Cheeses

Scrambled Eggs

Chives, Sylvan Star Gouda

Old Fashioned Baked Beans

Eggs Benedict Station

Smoked Salmon, Trout Caviar, Back Bacon, Spinach, Trio of Hollandaise

Seasons Finest Roasted Roots

Charred Brussels Sprouts

Brown Butter, Lemon Zest

Gnocchi with Fresh Tomatoes and Arugula | GF
Christmas Dinner

in The Beauvert Ballroom | $119 per adult

Soup

Pumpkin Soup

Double Smoked Bacon Lardons, Fresh Herbs

Salad Station

Tomatoes, Cucumbers, Dried Cranberries, Croutons, Sunflower Seeds, Bacon & Asiago Caesar, Honey Mustard & Maple Balsamic Vinaigrette

Waldorf Salad

Apple, Grapes, Celery Root, Walnuts, Lemon Mayonnaise Dressing

Alberta Beets & Goat Cheese

Shaved Fennel & Citrus

Broccoli Cauliflower Salad

Sunflower Seeds, Dried Cranberries, Bacon, Maple Apple Cider Vinaigrette

Cheese Fondue Station

French Bread, House Pickles, Sour Onions, Fingerling Potatoes, Green Apple Wedges


Warning: Invalid argument supplied for foreach() in /htdocs_20230531/content/themes/base/templates/layouts/pricing-menus.php on line 75


Hot Station

Pan Seared Salmon

Grain Mustard Cream Sauce, Semi Dried Cherry Tomatoes, Fresh Herbs

Mushroom Ravioli

Butter Glaze, Shaved Parmesan, Balsamic Drizzle

Roasted Vegetable Medley

Maple Glazed Parsnips, Carrots, Winter Squash, Sprouts, Rutabaga

Steamed PEI Blue Mussels

Lemon Butter Sauce, Tomato Sauce, Fresh Herbs, Crispy Bacon, Sofrito, Toasted Baguettes

Carving AAA Striploin Steak & Alberta Turkey

Yorkshire Pudding, Savoury Stuffing, Red Wine Jus, Pan Gravy, Horseradish, Cranberry

Sweets

Christmas Chocolate Bark

Candied Nuts, Meringue Kisses

Gingerbread Chocolate Tortes

Fig and Cranberry Bread Pudding

Gingerbread Cake with Eggnog Cream

Oh Christmas Strawberry Tree! | GF

Pumpkin Spiced Cheesecake

Kids Menu

$59.50 per child (6 - 12)


Warning: Invalid argument supplied for foreach() in /htdocs_20230531/content/themes/base/templates/layouts/pricing-menus.php on line 75


Starters

Cream of Tomato Soup

Soda Crackers

Kiddie Crudité Platters

Served With House Ranch & Hummus

Mains

Carrot Coins & Buttered Cauliflower

Dessert

Christmas Angel Food Cake

Snowman Confetti Cake Pops | GF
New Year's Eve Dinner

in The Beauvert Ballroom | $179 per adult

Starters

Seafood Chowder

Lobster, Clams, Mussels, Leeks, Yukon Potatoes, Fresh Herbs

Duck Confit Caesar Salad

Duck Fat Croutons, Preserved Lemon, Anchovy-less Dressing

Beef Tartare Station

AAA Alberta Beef Tenderloin, Pommery Style Mustard Vinaigrette, Chopped Capers, Fresh Herbs, Brandy Macerated Chopped Shallots, Crispy Capers, Tobacco Onions

Bread Display

Focaccia, Ciabatta, Alberta Grains Baguette, Pretzel Rolls & Crostinis

Alpine Cheese Fondue House Made Fondue

Emmenthal Cheese, Diced Apple, Crostini, Boiled Potatoes

Cheese and Charcuterie Station

Selection of Meuwly's Charcuteries, Mustards, Olives, Cornichons

Seafood Display

North Atlantic Cold Water Peel & Eat Shrimp, Crab Claws, Oysters Classic Cocktail Sauce, Citrus Wedges & Tabasco

Mains

Whole Salmon "Bellevue"

Whole Poached Salmon with Accompaniments

Penne Carbonara Station

Chef tossed pasta with choice of Carbonara, Olio, Pomodoro Fresh Grated Parmesan and Cracked Pepper

Carving Station

Whole Smoked and Roasted Prime Rib of Alberta Beef, Yorkshire Pudding, Natural Jus

Roasted Festive Vegetables

Brussels Sprouts, Butternut Squash, Turnip, Carrot, Parsnip

Vegan Stewed Vegetables

Alberta Canellini Beans, Root Vegetables, Leek, Celeriac, Thyme, Savoury Broth

Herbed Roasted Chicken

Truffle Jus

Sweets

Banana Flambé

Oak Aged Rum, Whipped Cream, Vanilla Ice Cream

Dressed Up Chocolate Strawberries

Dulce De Leche Cheesecake

Kids Menu

$89.50 per child (6 - 12)


Warning: Invalid argument supplied for foreach() in /htdocs_20230531/content/themes/base/templates/layouts/pricing-menus.php on line 75


Starters

Homemade Tomato Soup

Assorted Rolls

Selection Of Handpicked Greens

Cherry Tomatoes, Cucumber, Ranch Dressing

Mains

Dessert

Funfetti Sundae Bar

Sprinkles & Toppings

Strawberry Milk 'Popsicles'

**includes entry into the NYE Countdown Party