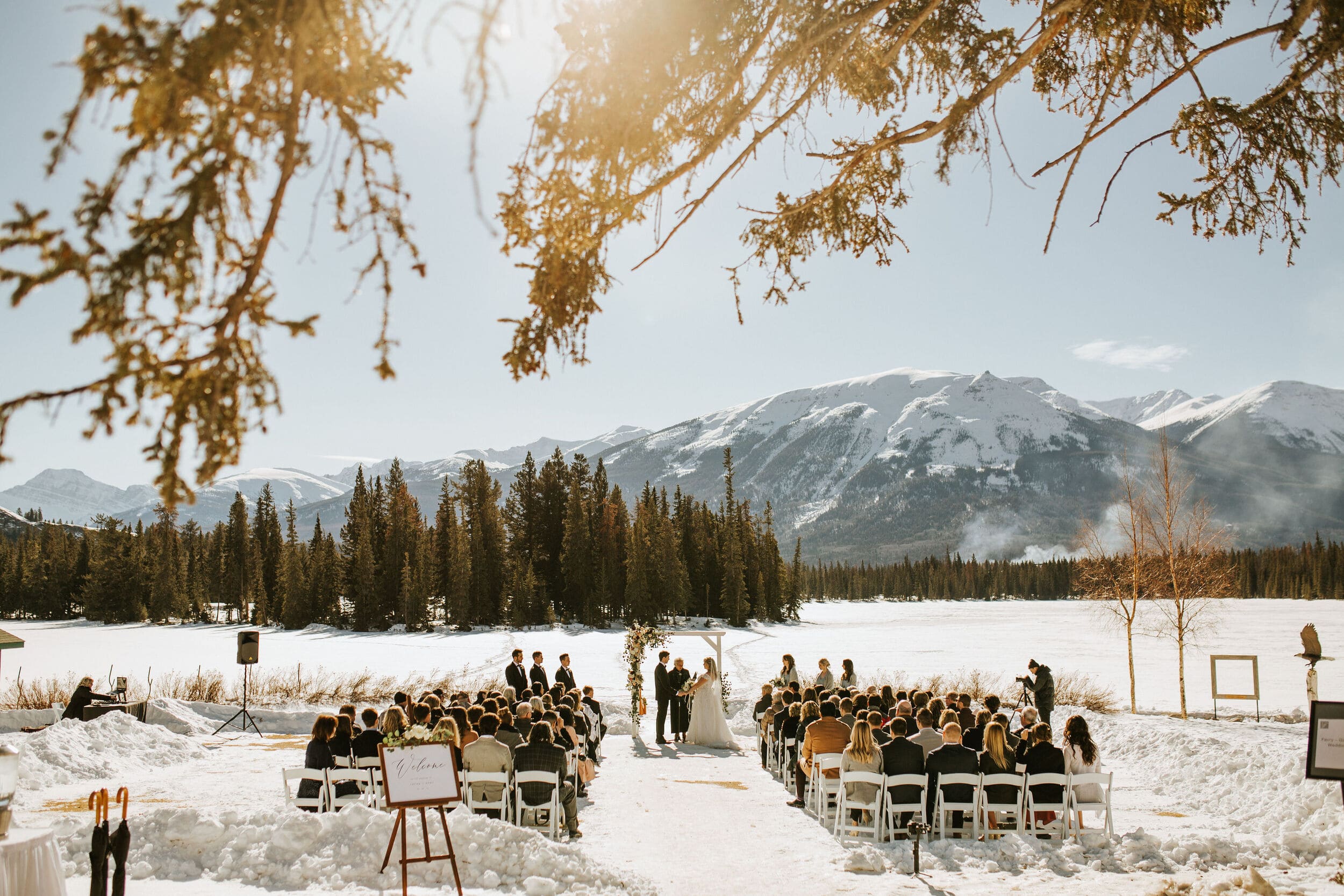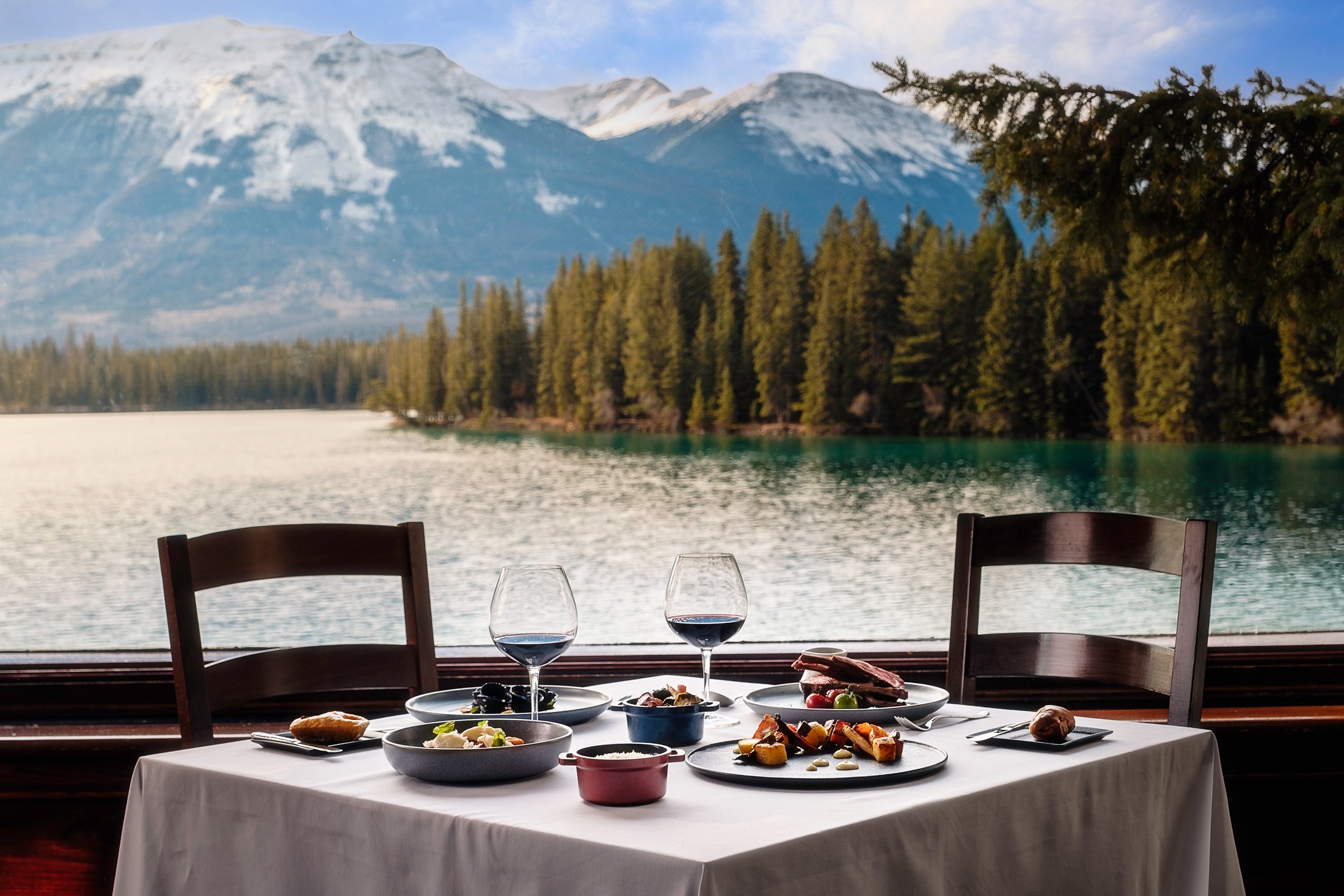 Orso Annex
This indoor venue is located in our Orso Trattoria Restaurant and has beautiful windows overlooking Lac Beauvert and the mountains beyond. To avoid conflict with the restaurants usual hours of operation, your ceremony would need to take place between 1:00pm and 3:00pm.
Mary Schaffer Ballroom
The room can divide into three smaller rooms, all with natural light and integrated screens, perfect for business. Features include large vaulted ceilings, oversized gold-leaf chandeliers, and a large mural celebrating Mary Schaffer's early exploration of Jasper. The Mary Schaffer Ballroom is adjacent to The Great Hall, an excellent venue for a cocktail reception.
110 - 175 Guests
Banquet Menu
1,600 - 2,280 sq. ft.
Beauvert Ballroom
Named for the beautiful, sparkling green-colored mountain lake it overlooks, the Beauvert Room's generous proportions are perfectly offset by its large picture windows and maximum 25-foot (7.6-meter) ceilings. Spacious enough to host large gatherings, it offers guests an incomparable vista of the lake, forest, and peaks. The Beauvert Room is the largest meeting room on property and features natural lighting, air conditioning, and the ability to divide into two smaller meeting rooms.
260 - 300 Guests
Banquet Menu
4,928 sq. ft.
Pyramid Room
This intimate and newly renovated venue has natural light and close proximity to everything you may need.
60 - 100 Guests
Banquet Menu
800 - 1,254 sq. ft.
Spike
The room was recently renovated and features a large stone fireplace and picture windows overlooking the first tee and the 18th fairway. The Spike Room is the ideal spot for a meeting or a meal before or after a round of golf.
125 Guests
Banquet Menu
1,440 sq. ft.
Stanley Thompson Boardroom
The room features a boardroom table, leather chairs, large stone fireplace, and large picture window that overlooks the 18th fairway. The Thompson Room is well suited for an executive meeting and accommodates up to 20 people.
20 Guests
Banquet Menu
630 sq. ft.
Trefoil Lake
This private venue is a hidden gem on our property, and offers spectacular views of Pyramid Mountain. An on-site built in bar allows for a seamless transition from ceremony to cocktails.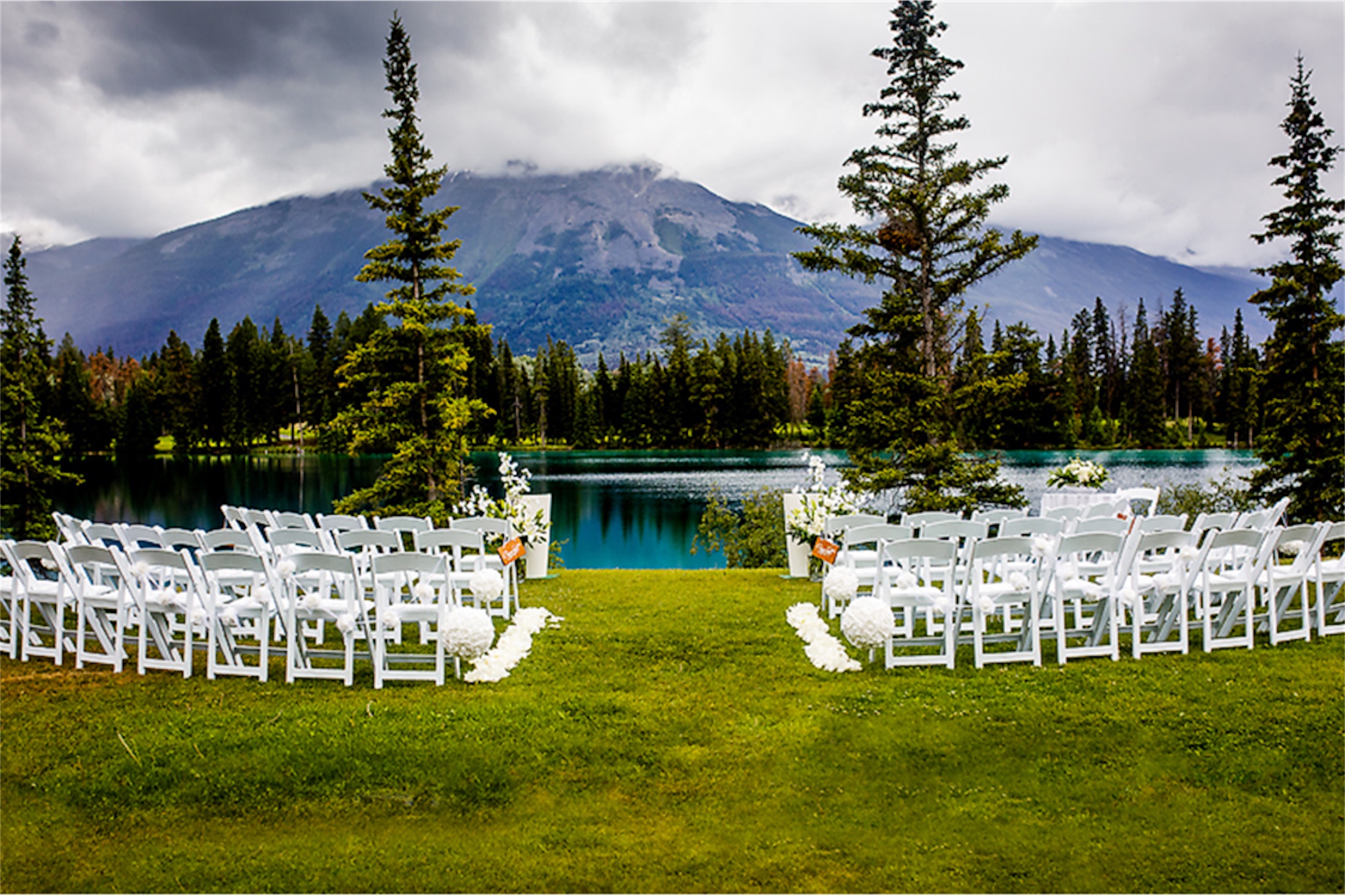 Lakefront Ridge
Lakefront Ridge is a smaller raised plateau tucked between our Lakefront Suites and Whistlers Cabins. The location offers a more private setting while still featuring beautiful views of Lac Beauvert and the surrounding mountains.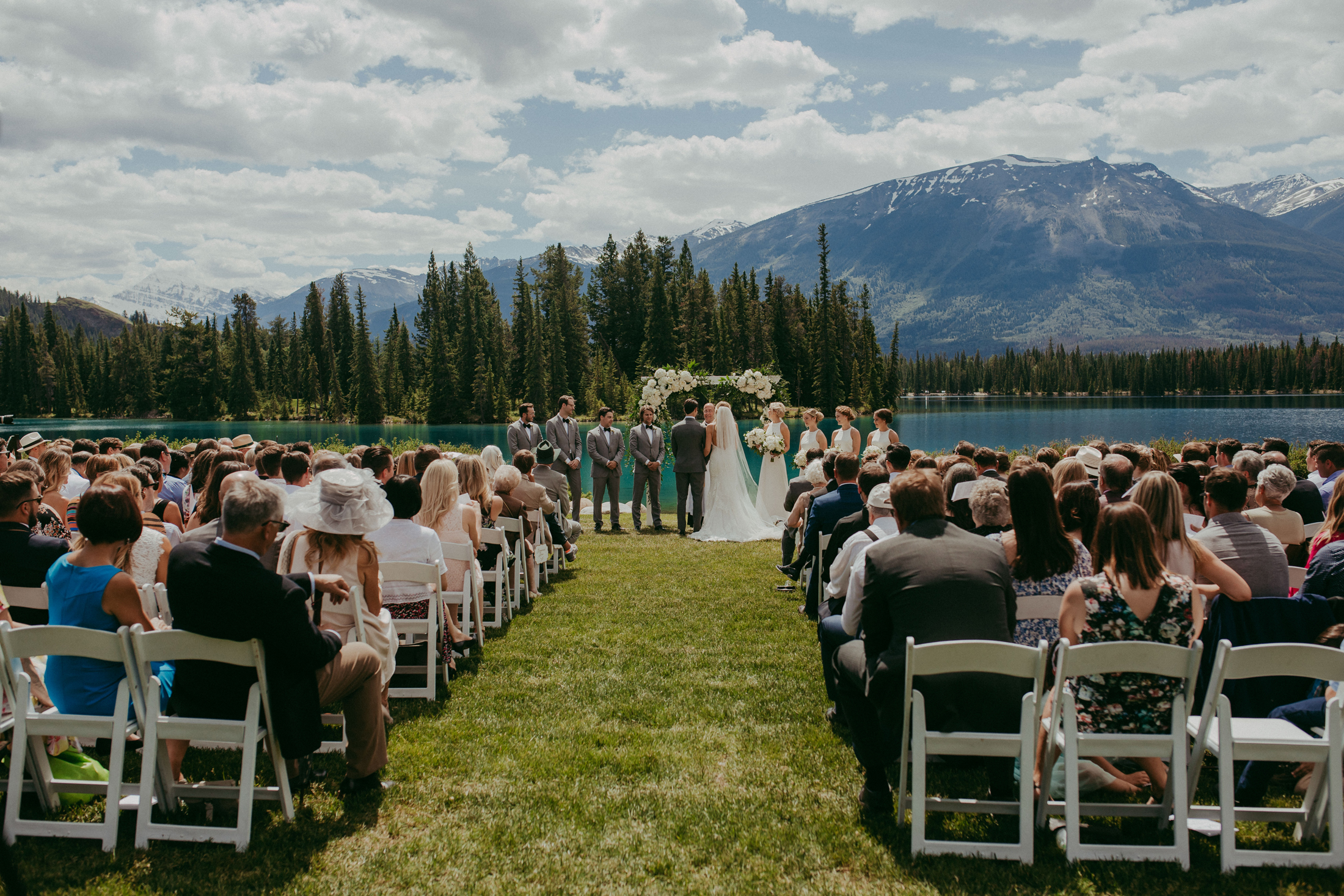 Beauvert Plateau
A breathtaking and centrally located venue, the Beauvert Plateau is located in front of the Main Lodge and has the perfect backdrop for your ceremony. With its stunning location on the shores of Lac Beauvert, this plateau offers the most idyllic views of the surrounding mountains. Photo Credit: Tricia Victoria Photography
Sundecks
These sundecks offer a unique and secluded Canadian Rocky Mountain atmosphere. With red canoes drifting in the lake and stunning view of the mountains, there is no place better for a small ceremony. These sundecks are ideal for elopements and intimate ceremonies.
Whistler's Plateau
The plateau boosts views of mountain terrain and a glimpse of the 16th tee. It is a semi-private venue and is located between our luxurious cabins.
Ceremony & Reception Details
Fairmont Jasper Park Lodge requires that ceremonies are accompanied by a food and beverage function. Exceptions may be made for weddings booked within 6 months of the ceremony date or when function space is not available.
We will do our best to accommodate requests to hold your ceremony rehearsal in the same venue that your wedding ceremony is booked in. We are, however, unable to guarantee space availability, time and location of your ceremony rehearsal until two weeks prior. Rehearsals are based on availability between the hours of 10:00 a.m. and 5:30 p.m.
The outdoor ceremony package includes an indoor location in the event of inclement weather. Location of an indoor weather alternative is at the hotel's discretion and subject to change based on availability. Please allow a minimum of one hour for ceremony set-up. The weather call for an outdoor ceremony will be made with your Wedding Specialist on the day of the ceremony. Please note that once a weather call has been made, the ceremony plans cannot be changed.
White wedding chairs
Linened signing table
Fruited water station or hot chocolate station
Ceremony rehearsal*
Inclement weather venue
Wedding Specialist to assist during the ceremony
Plug-in for iPhone/iPod to speakers
Wireless microphone and speakers for commissioner
Technician to play ceremony music (Device not included)
* Rehearsal is based on availability between the hours of 10:00am and 5:30pm the day before the ceremony
Floor Length Linen
Banquet Chairs & Tables
Fine Fairmont China
Tea Lights
Bar & Staff Services*
Wired Podium Microphone
*Bartender included if bar sales reach a minimum of $300 per bar.
Floor Length Linen
Banquet Chairs & Tables
Fine Fairmont China
Tea Lights
Bar & Staff Services*
Wired Podium Microphone
Raised Head Table
Dance Floor
*Bartender included if bar sales reach a minimum of $300 per bar.
Floor Length Linen
Banquet Chairs & Tables
Fine Fairmont China
Tea Lights
Bar & Staff Services*
Wired Podium Microphone
Raised Head Table
Dance Floor
White Chair Covers
LED Lighting
Sparkling Wine Toast (1 glass per guest)
Gobo Package**
*Bartender included if bar sales reach a minimum of $300 per bar.
**A Gobo is a monogram that may be projected on the dance floor, backdrop, wall, etc. Gobo Package does not include the design of the Gobo. Please ask your wedding specialist for details on how to design the Gobo.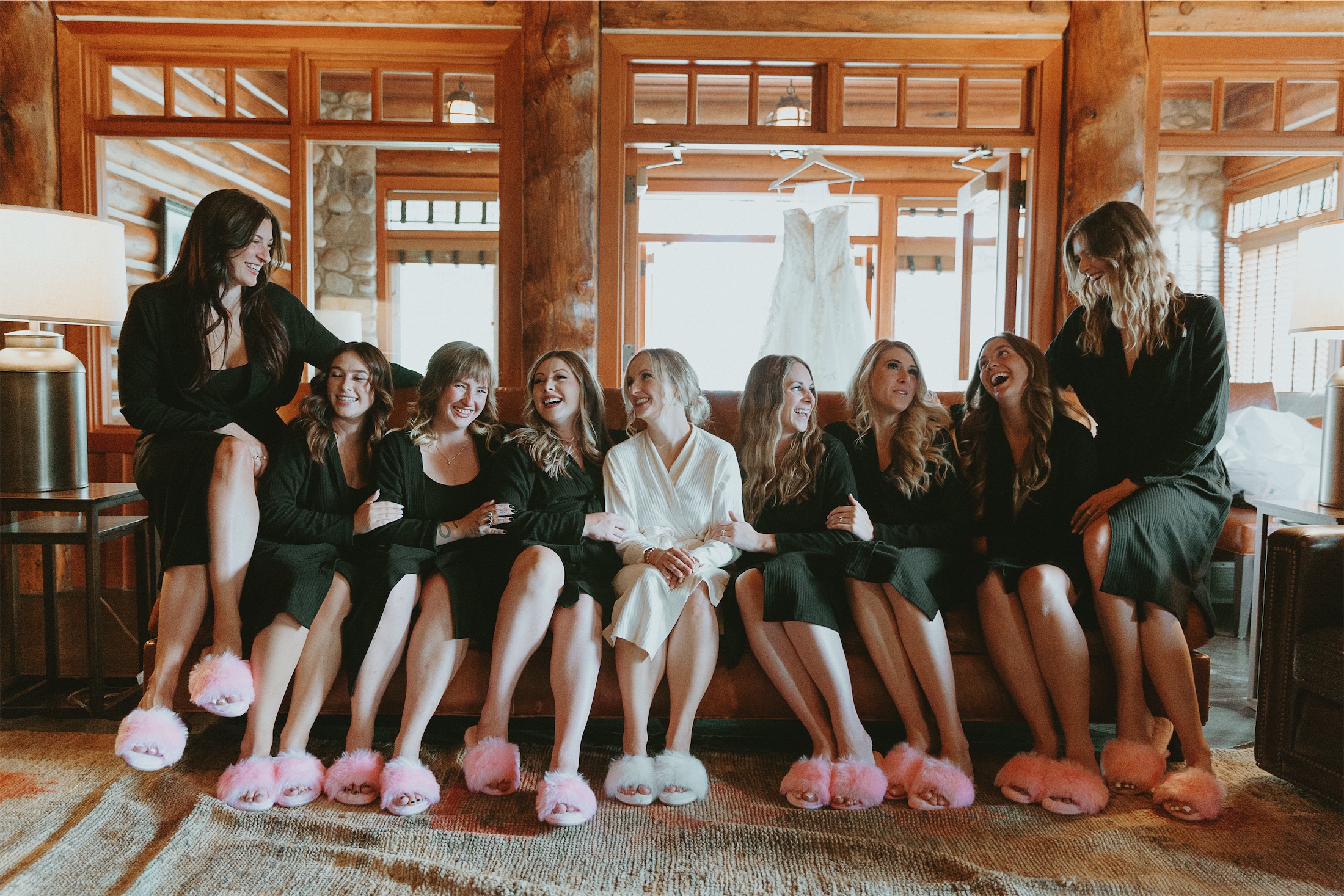 Our Signature Cabins offer the perfect locations for a truly unique celebration. Each is entirely self-contained and sleeps two to 16 guests in plush comfort. Character abounds with wildlife-themed great rooms, original polished-log construction, grand stone fireplaces, and huge verandas.
Summer only. Includes staff to paddle the canoe.
Enjoy a staffed fire pit stocked with marshmallows, chocolate, crackers, roasting sticks, linen and cocktail napkins. Hot chocolate and bar service are also available.
Winter only. Enjoy a reserved hockey rink for just your party. Skates and equipment may be rented through our Winter Activity Centre.
Provided and installed by Fairmont Jasper Park Lodge. White chair covers are included with the Platinum Reception Package.
Our pastry team will decorate dessert plates with the couple's initials.
Enjoy a signature intermezzo between the appetizer and main course.
A hotel driver will shuttle the couple and their photographer around our property to reach your chosen photo spots.
Includes piano rental only. Piano tuning may incur an additional fee.
One hour session to "sip in what matters" and calm any anxiety around the big day.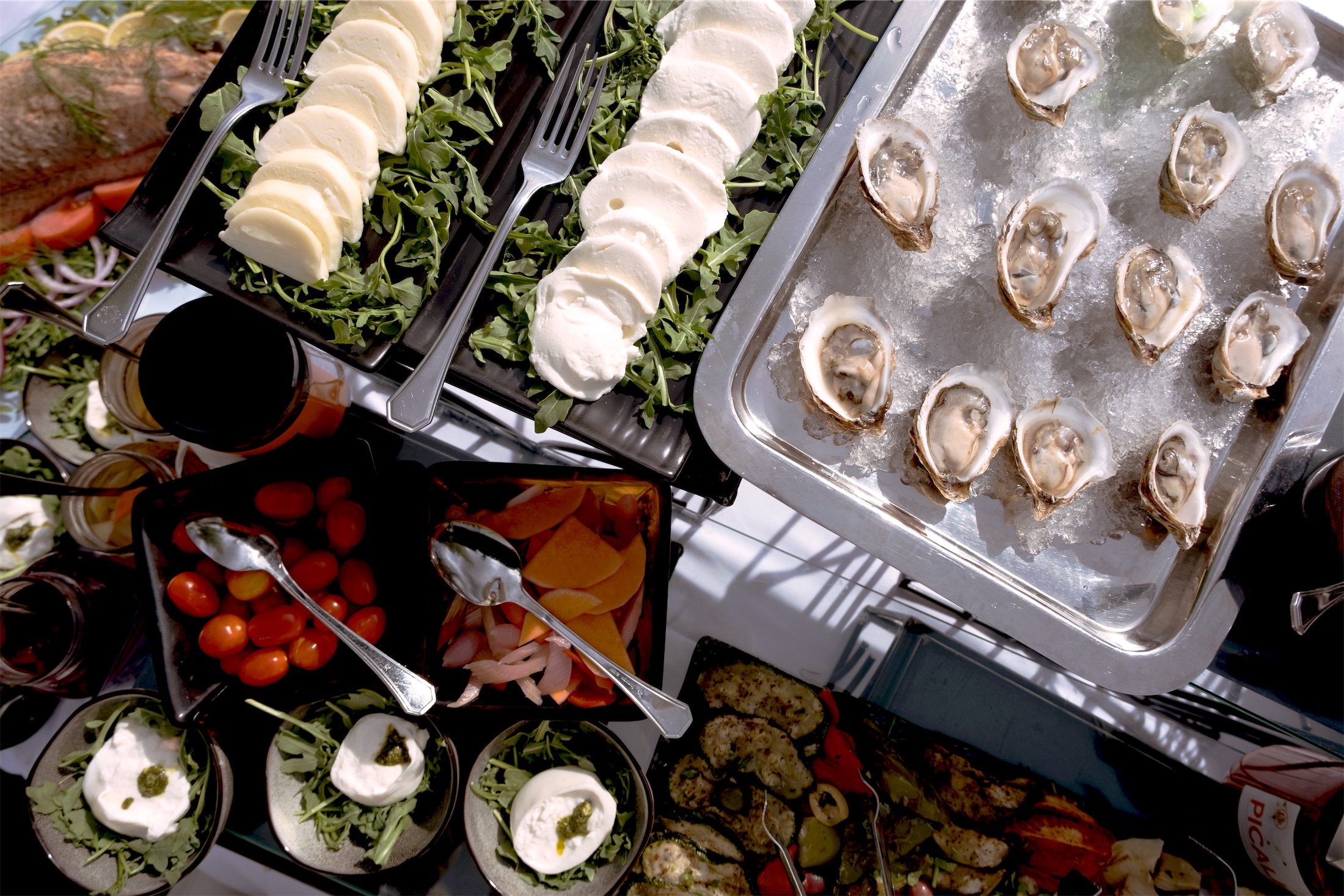 Sit down for a lavish five-course feast or tantalize your guests with artful hors d'oeuvres on the deck with unforgettable views. Create a bespoke menu that reflects your unique culinary vision or serve a menu designed by our expert culinary team.
Additional Wedding Information & Policies
It is the policy of Fairmont Jasper Park Lodge to serve alcoholic beverages in a reasonable and professional manner at all times. We will adhere to all applicable laws and regulations as they pertain to the service of alcohol to under aged or intoxicated persons. Hours of alcoholic beverage service at Fairmont Jasper Park Lodge are 9:00am to 12:30am, Monday to Sunday, including holidays. The hotel will provide complete arrangements including bartender, ticket seller, mix, glasses, ice, and condiments as required.
All weddings have a minimum spend of $125 per guest for food and beverage. Our buffets and plated dinners range approximately from $85 to $125 per guest. Many couples will choose to add hors d'oeuvres during cocktail hour, a cake, and a late night snack. Beverages can be served through a host bar or a full or partial cash bar. Depending on the selections you make, your actual spend could be between $125 and $200 per guest.
Audio visual equipment (podium, microphone, lapel microphone, sound systems, slideshows, etc.) can be supplied by our in-house vendor, Encore. Detailed pricing is available upon request.
Guests will pay for their own beverages either with a rate subsidized by the hosts or in full from the bartender. For example, if you have a Toonie Bar, a guest would pay $2 per beverage at the bar and the couple would pay the remaining beverage amount to their account. A bartender charge of $150 per bartender will be applied if sales are less than $300 per bar.
Menus and wine selections must be confirmed 60 days prior to your wedding date. There is an automatic 20% gratuity added to all Food and Beverage selections. Once your final menu and beverage requirements have been confirmed, your Wedding Specialist will prepare a cost estimate for you. For your initial planning purposes, estimate a minimum of ½ bottle of wine per person for dinner. Estimate two drinks per person for the first hour of a reception, one drink per hour for each hour after. Estimate a minimum of six pieces of hors d'oeuvres per person, based on a one hour reception before dinner. Anticipate 30 minutes for each course to be served, eaten, and cleared.
Candles are permitted as long as the flame is enclosed within the holder. Flower petals are also permitted in all ceremony spaces provided they are cleaned up immediately following the ceremony, alternatively a $75.00 clean up fee will apply. Please note that in accordance with Parks Canada guidelines, confetti, bird seed, rice, drones, helicopters, sparklers, fireworks, paper wishing lanterns, smoke bombs, and the release of any live animals will not be permitted in any space at Fairmont Jasper Park Lodge or within the boundaries of Jasper National Park.
Fairmont Jasper Park Lodge will require an advance deposit for the master account. This deposit will be either $2,500 or 10% of your preliminary master account (based on ceremony and reception packages + the estimated $125 per guest for food and beverage) depending on which amount is greater.
We have a deposit schedule throughout the year that is determined based on the size of the wedding and how far in advance you are booking. The entire estimated costs for your wedding will be taken in full 30 days prior to arrival.
Should it become necessary for you to cancel any and or all of the functions as listed in your program, we will be entitled to cancellation damages based on the room rentals and food and beverage minimums as outlined in your contract. There is a scale which determines the percentage of cancellation fee to apply based on the date canceled. We do allow one change of date without penalty providing the new space and date are available. The new date must fall within the same calendar year as the original date otherwise it will be deemed a cancellation and the cancellation schedule will apply.
We are happy to offer a discounted rate when you secure 30% of your guest count number or 8 rooms, whichever is higher, per night for a minimum of two nights or three nights on a long weekend in your Wedding Room Block. This discounted rate does not change depending on business levels throughout the year. Once we know your preferred dates, how many nights you would like contracted, and your preferred room categories we will be able to provide you with the discounted rate and availability. Any rooms in your room block that have not been reserved will automatically be released 30 or 60 days prior to arrival, depending on your dates. Guests will be required to pay a one night room and tax deposit at time of booking.
Dry bar service provides assorted glassware, ice cubes, garnishes, stir sticks and cocktail napkins. One complimentary clean up per day is included. This service is only available in guestrooms and Luxury Signature Cabins.
1–25 guests: $249 set up fee
26–50 guests: $349 set up fee
51–75 guests: $399 set up fee
76+ guests: $5.50 per person
Extra Dry Bar Refresh: $4.00 per person
The above prices are subject to a 20% service charge and 5% GST.
The host pays for all guest liquor consumption, plus a 20% gratuity charge and applicable taxes. A bartender charge of $150 per bartender will be applied if sales are less than $300 per bar.
Fairmont Jasper Park Lodge must collect SOCAN fees and Re:Sound for groups having functions with music in the hotel.
SOCAN fee charges shall apply to each function with music as per the following tariff No. 8 schedule.
With Dancing
1–100 Guests: $41.13*
101–300 Guests: $59.17*
301–500 Guests: $123.38*
501+ Guests: $174.79*Without Dancing
1–100 Guests: $20.56*
101–300 Guests: $29.56*
301–500 Guests: $61.69*
501+ Guests: $87.40*
RE:SOUND fee charges shall apply to each function with music as per the following schedule.
With Dancing
1–100 Guests: $18.51*
101–300 Guests: $26.63*
301–500 Guests: $55.52*
501+ Guests: $78.66*
Without Dancing
1–100 Guests: $9.25*
101–300 Guests: $13.30*
301–500 Guests: $27.76*
501+ Guests: $39.33*
*All fees are subject to 5% GST
Please note that the hotel reserves the right to control the volume of music at all times if guest complaints are registered. Noise restrictions may vary between seasons.
Fairmont Jasper Park Lodge reserves the right to be the sole provider of food and beverage. No outside alcoholic beverages are permitted. Wedding cakes are the only items that may be brought in from an outside supplier. When you provide an externally catered cake, a hold harmless form will be signed to release Fairmont Jasper Park Lodge of liabilities associated with the cake.
Parking is available in our parking lots located throughout the property free of charge on a first-come first-serve basis. Valet Parking is available for $45.00 per night.
We consider all contracted rooms that you hold for your guests, including yourself, as sold inventory. Thus, at the conclusion of your wedding, we will subtract the actual room revenue derived from your wedding block, room revenue projection and from those held roo
ms per night. Any remaining amount will be posted as a charge to your Master Account, plus applicable taxes and any service charges. You may reduce the amount of rooms we are holding by 15% up until 3 months prior to their arrival or 10% after the 3 month mark until 1 month prior to arrival as long as your room block doesn't drop below 8 rooms per night.
Our talented team of pastry chefs can create a beautiful wedding cake for your special day. We can also replicate a design of your choice and provide a customized quote based on the design requested and the number of servings.
It is our pleasure to offer our wedding couples a complimentary upgrade to our highest room category available based at the Fairmont Room Rate. This upgrade is based on availability 14 days prior to arrival.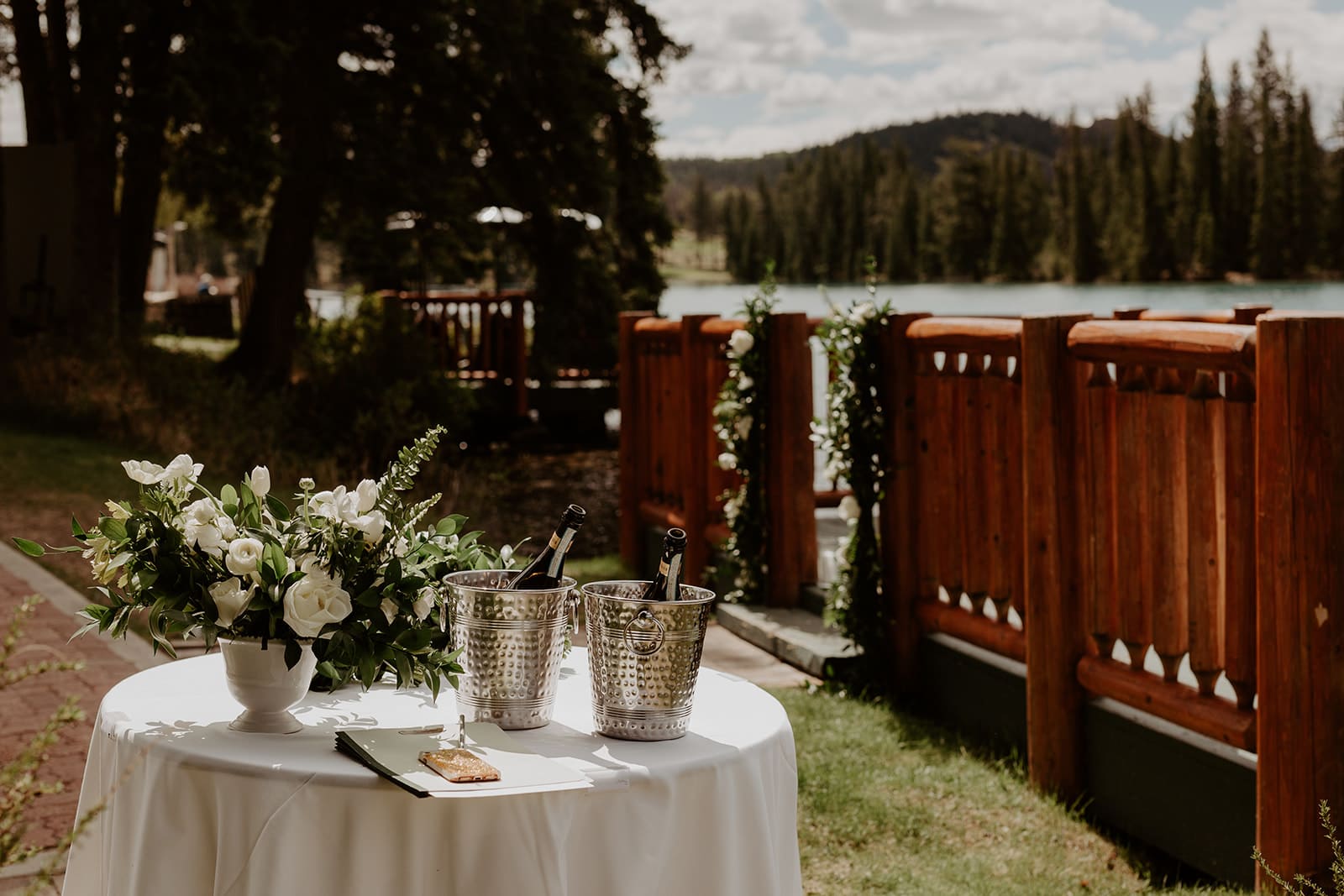 Floral Design & Decor
Create your ideal wedding atmosphere with beautiful and unique floral accents for your special day. Jasper's creative local florists can help you get inspired and design the ideal look for your wedding.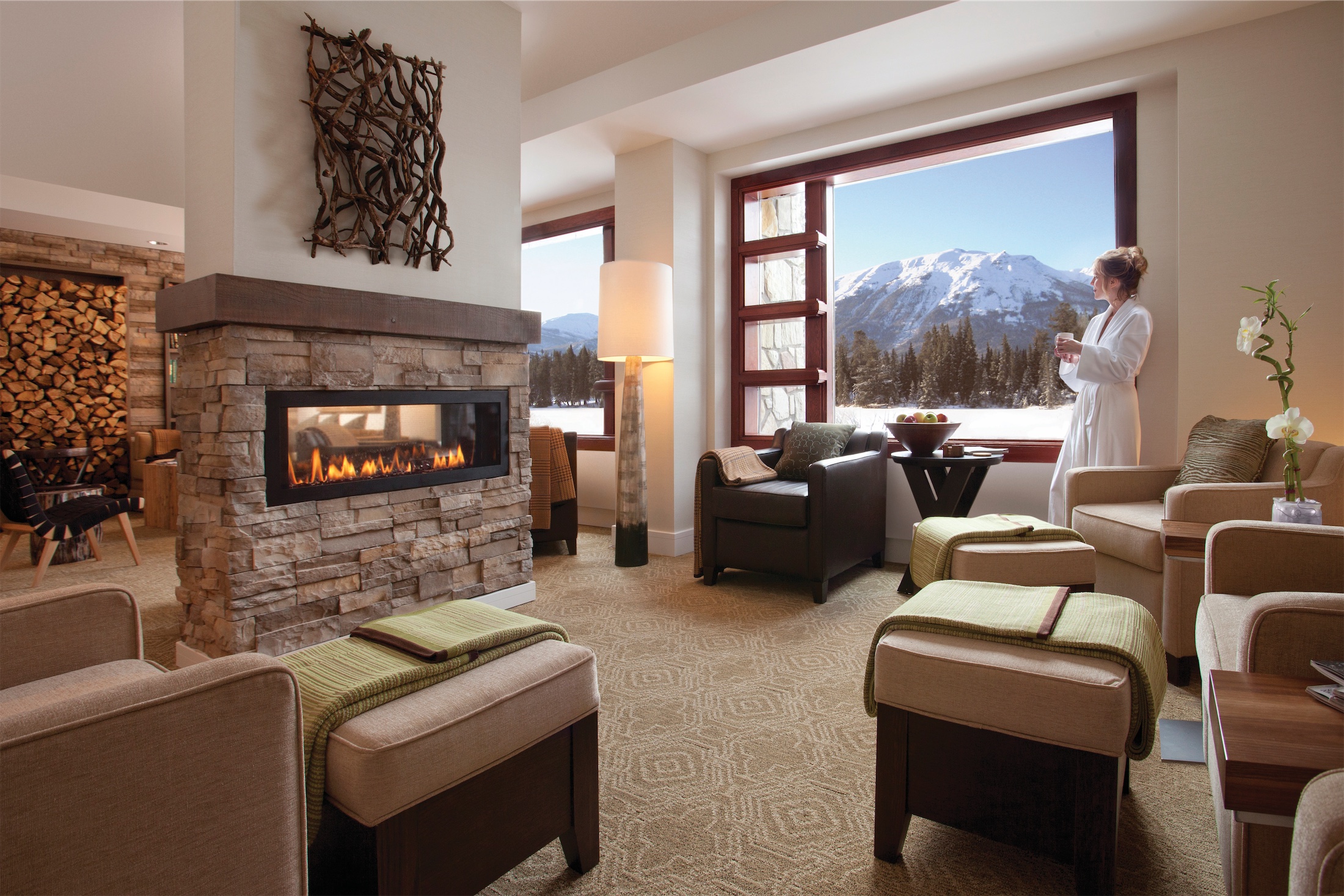 Spa Bliss
Make the day even more special with serene spa treatments. When you book your wedding with us, you and your guests are entitled to a 10% discount off any of our treatments offered at the Spa.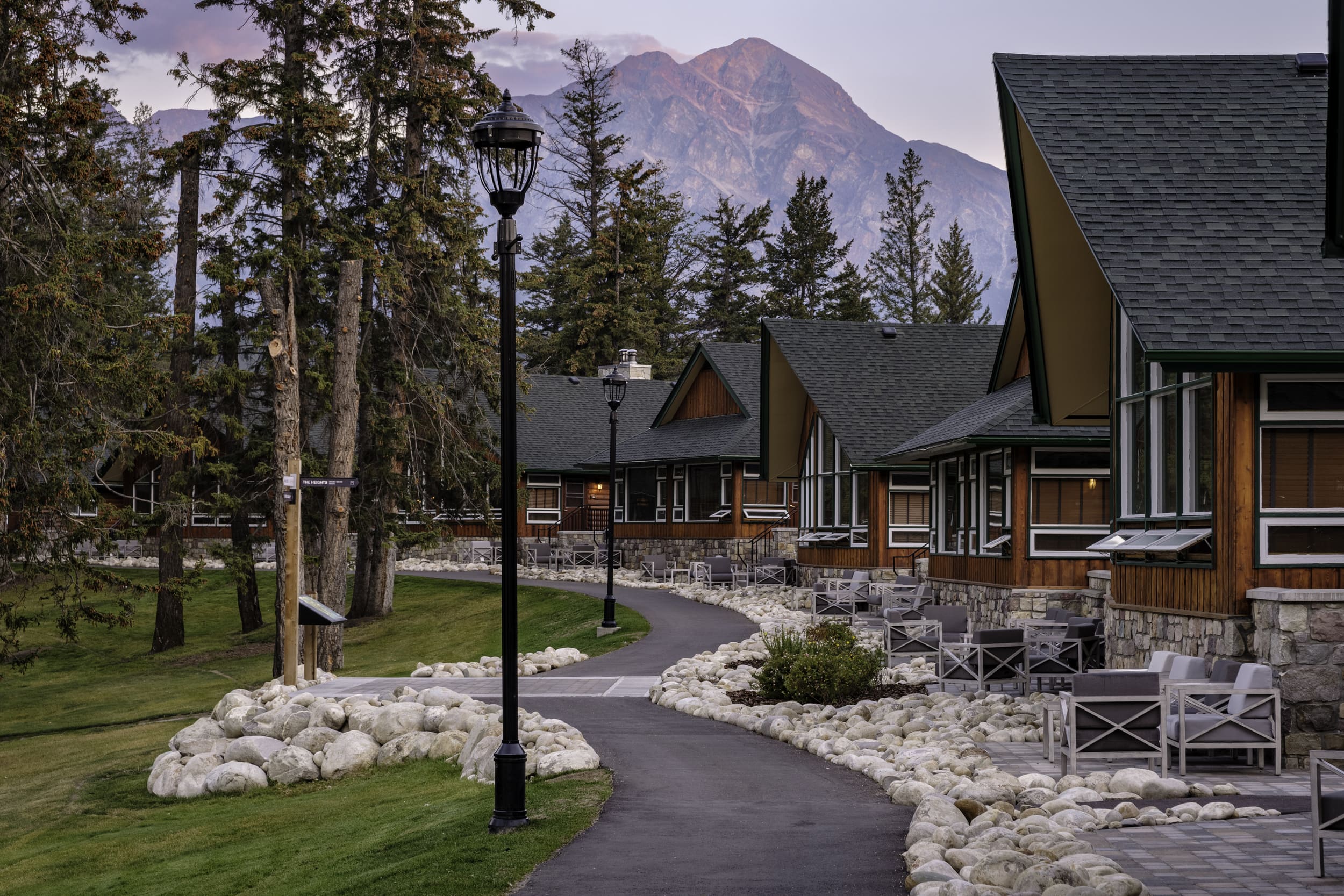 Special Rates
Your wedding guests will love our village of heritage log cabins connected by picturesque paths. Receive a discounted rate when you secure a minimum of 8 rooms per night in your room block.