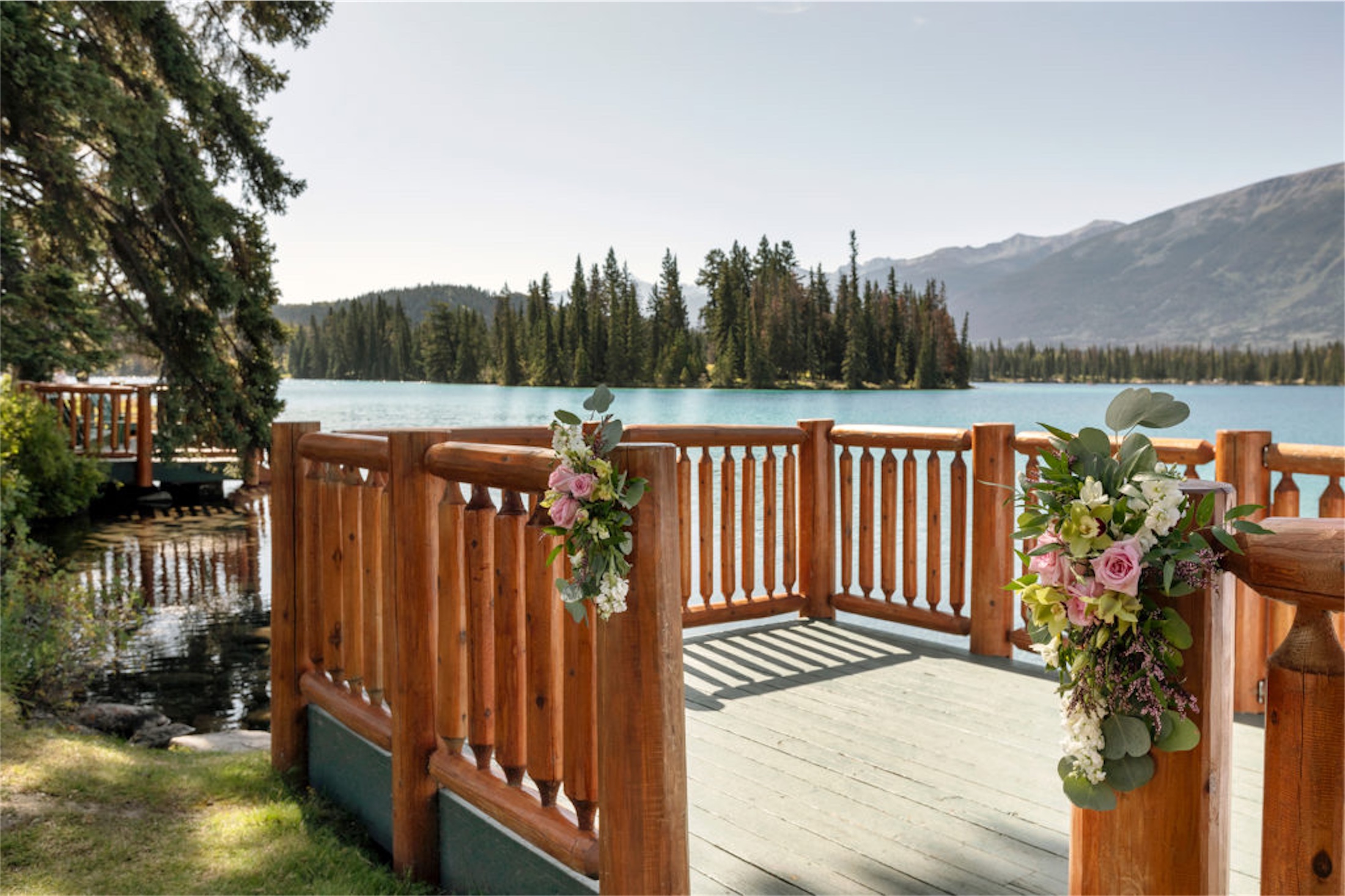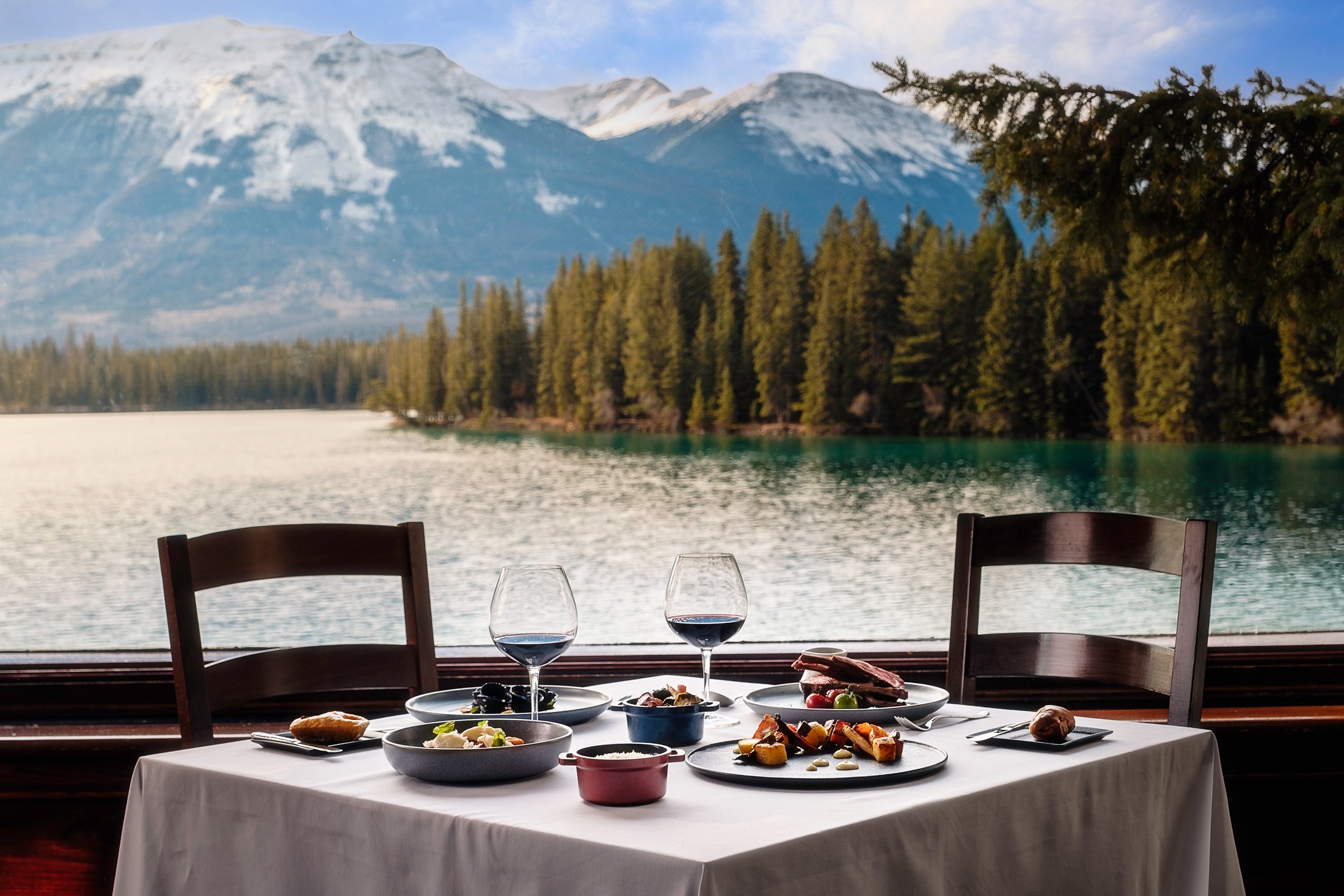 Orso Annex
This indoor venue is located in our Orso Trattoria Restaurant and has beautiful windows overlooking Lac Beauvert and the mountains beyond. To avoid conflict with the restaurants usual hours of operation, your ceremony would need to take place between 1:00pm and 3:00pm.
Mary Schaffer Ballroom
The room can divide into three smaller rooms, all with natural light and integrated screens, perfect for business. Features include large vaulted ceilings, oversized gold-leaf chandeliers, and a large mural celebrating Mary Schaffer's early exploration of Jasper. The Mary Schaffer Ballroom is adjacent to The Great Hall, an excellent venue for a cocktail reception.
110 - 175 Guests
Banquet Menu
1,600 - 2,280 sq. ft.
Beauvert Ballroom
Named for the beautiful, sparkling green-colored mountain lake it overlooks, the Beauvert Room's generous proportions are perfectly offset by its large picture windows and maximum 25-foot (7.6-meter) ceilings. Spacious enough to host large gatherings, it offers guests an incomparable vista of the lake, forest, and peaks. The Beauvert Room is the largest meeting room on property and features natural lighting, air conditioning, and the ability to divide into two smaller meeting rooms.
260 - 300 Guests
Banquet Menu
4,928 sq. ft.
Pyramid Room
This intimate and newly renovated venue has natural light and close proximity to everything you may need.
60 - 100 Guests
Banquet Menu
800 - 1,254 sq. ft.
Spike
The room was recently renovated and features a large stone fireplace and picture windows overlooking the first tee and the 18th fairway. The Spike Room is the ideal spot for a meeting or a meal before or after a round of golf.
125 Guests
Banquet Menu
1,440 sq. ft.
Stanley Thompson Boardroom
The room features a boardroom table, leather chairs, large stone fireplace, and large picture window that overlooks the 18th fairway. The Thompson Room is well suited for an executive meeting and accommodates up to 20 people.
20 Guests
Banquet Menu
630 sq. ft.
Trefoil Lake
This private venue is a hidden gem on our property, and offers spectacular views of Pyramid Mountain. An on-site built in bar allows for a seamless transition from ceremony to cocktails.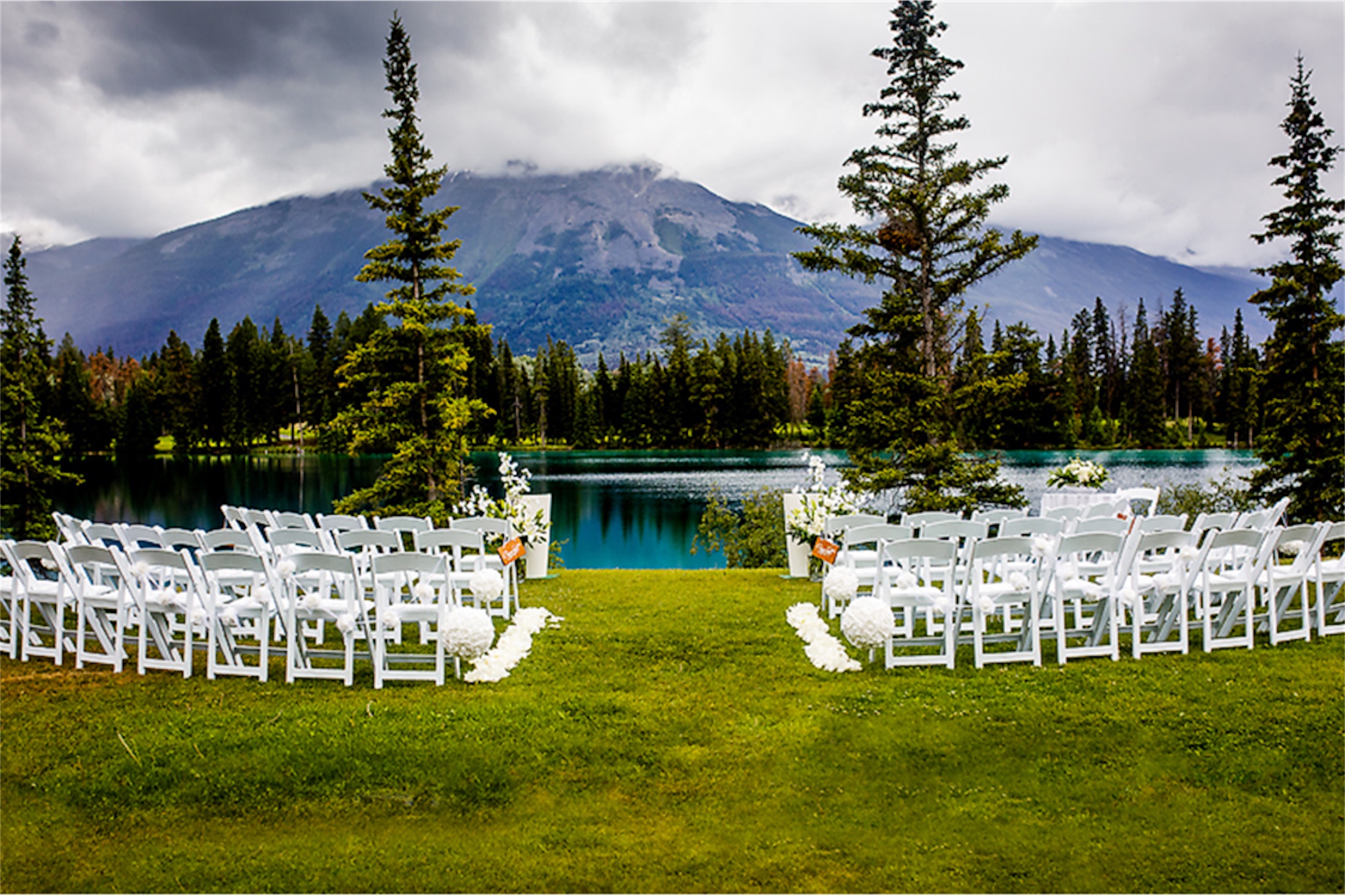 Lakefront Ridge
Lakefront Ridge is a smaller raised plateau tucked between our Lakefront Suites and Whistlers Cabins. The location offers a more private setting while still featuring beautiful views of Lac Beauvert and the surrounding mountains.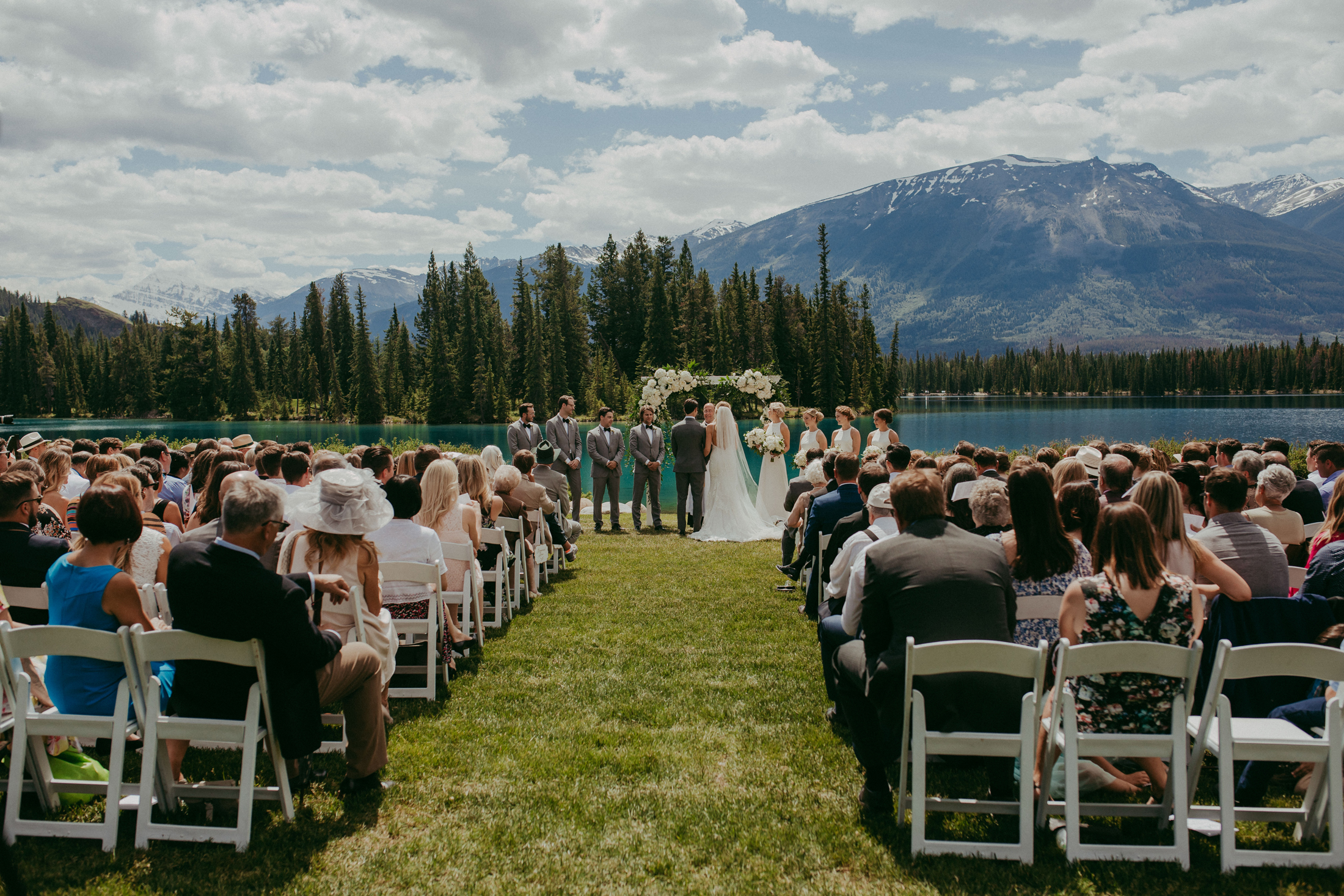 Beauvert Plateau
A breathtaking and centrally located venue, the Beauvert Plateau is located in front of the Main Lodge and has the perfect backdrop for your ceremony. With its stunning location on the shores of Lac Beauvert, this plateau offers the most idyllic views of the surrounding mountains. Photo Credit: Tricia Victoria Photography
Sundecks
These sundecks offer a unique and secluded Canadian Rocky Mountain atmosphere. With red canoes drifting in the lake and stunning view of the mountains, there is no place better for a small ceremony. These sundecks are ideal for elopements and intimate ceremonies.
Whistler's Plateau
The plateau boosts views of mountain terrain and a glimpse of the 16th tee. It is a semi-private venue and is located between our luxurious cabins.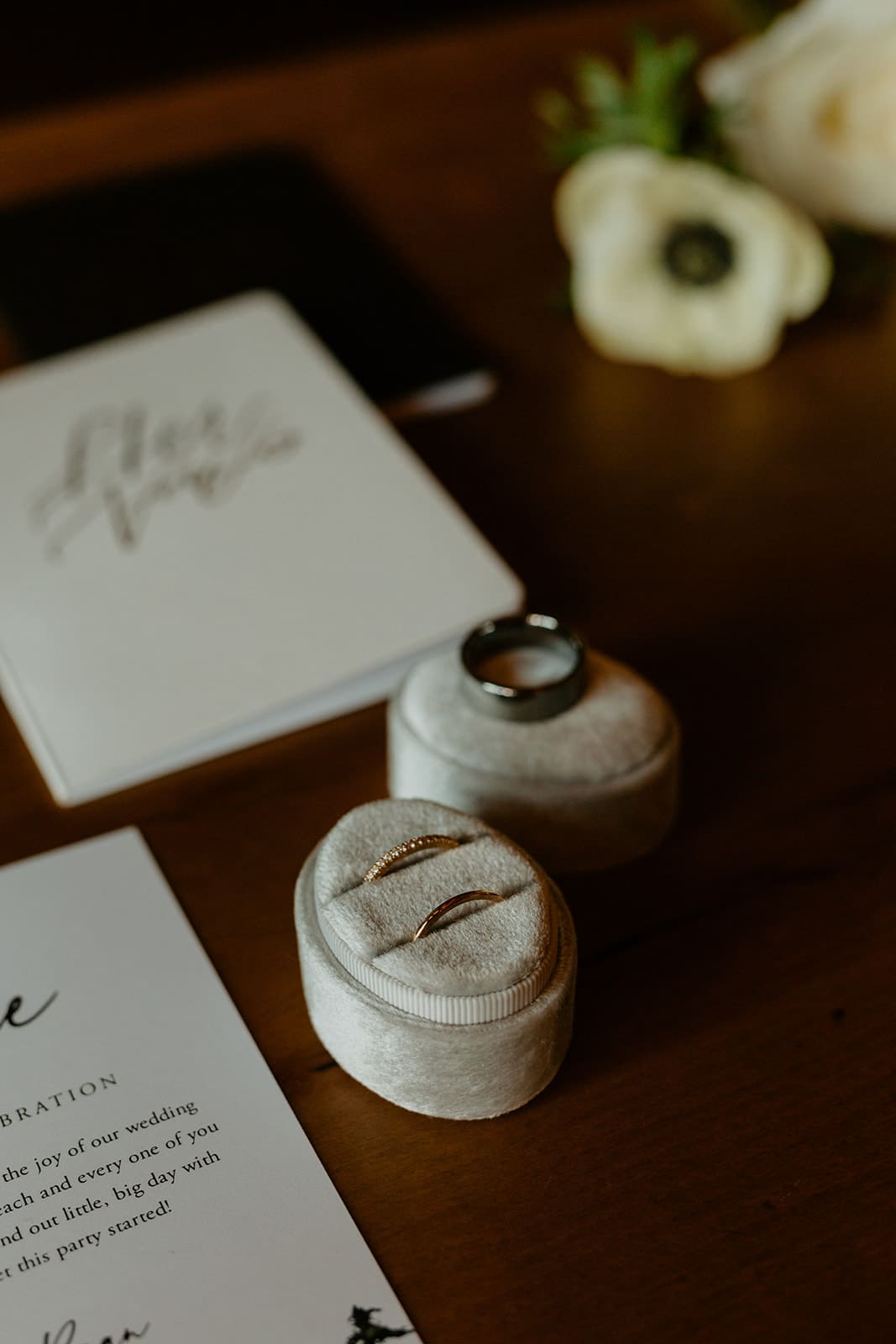 Professional Wedding Planning
Whether planning an intimate gathering or extravagant celebration, our talented planning team will ensure every detail is perfectly executed. We are happy to arrange site inspections and meetings to show you our beautiful venues and to discuss how Jasper is the perfect option for your special day.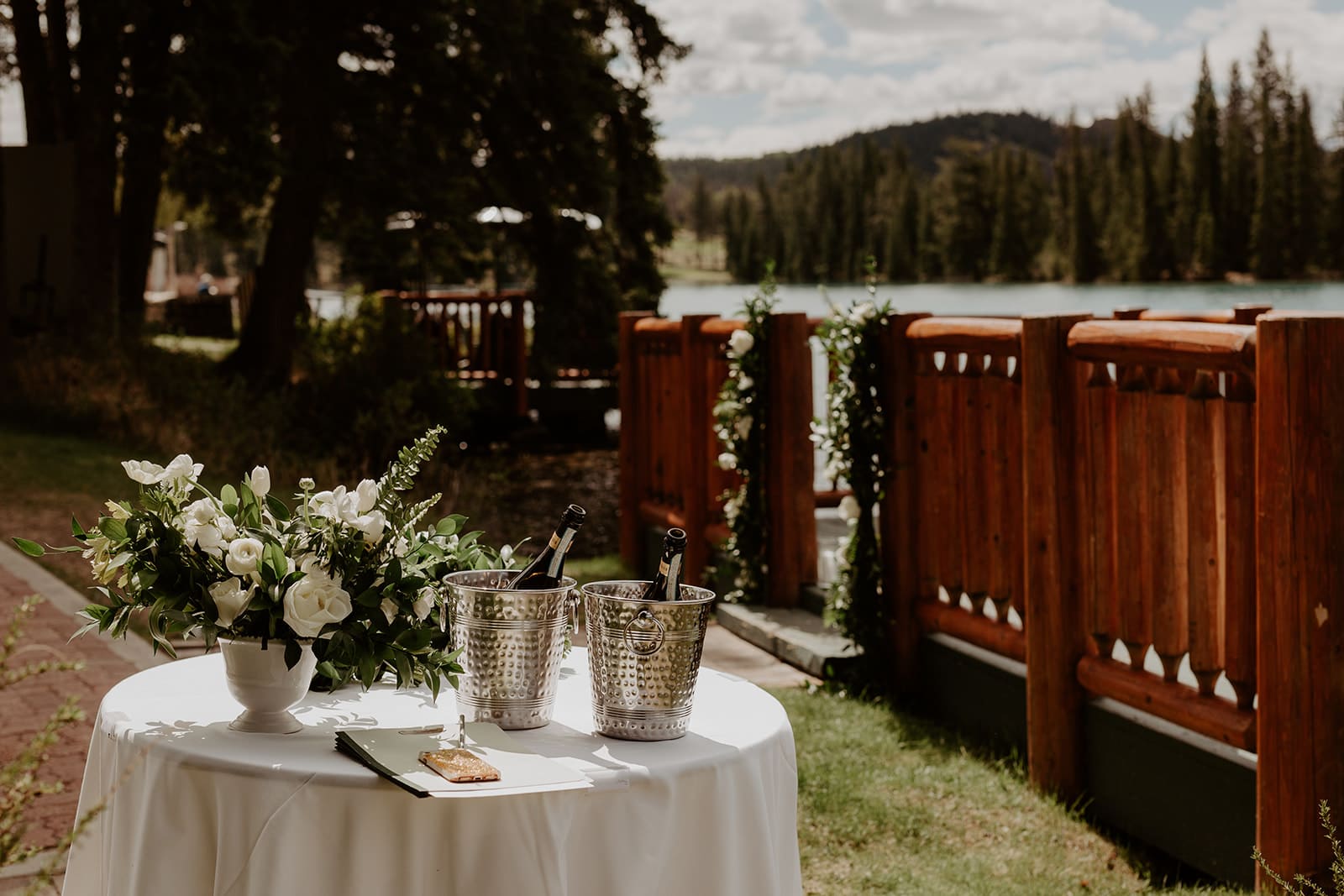 Elevate Your Wedding Day
Elevate your experience with exclusive packages, including: BBQ Packages, Picnics in the Park, S'mores Outdoors, Private Sundeck Champagne Toast, Canoe Ride for Two, and A Round of Golf. Ask your Wedding Specialists for more information.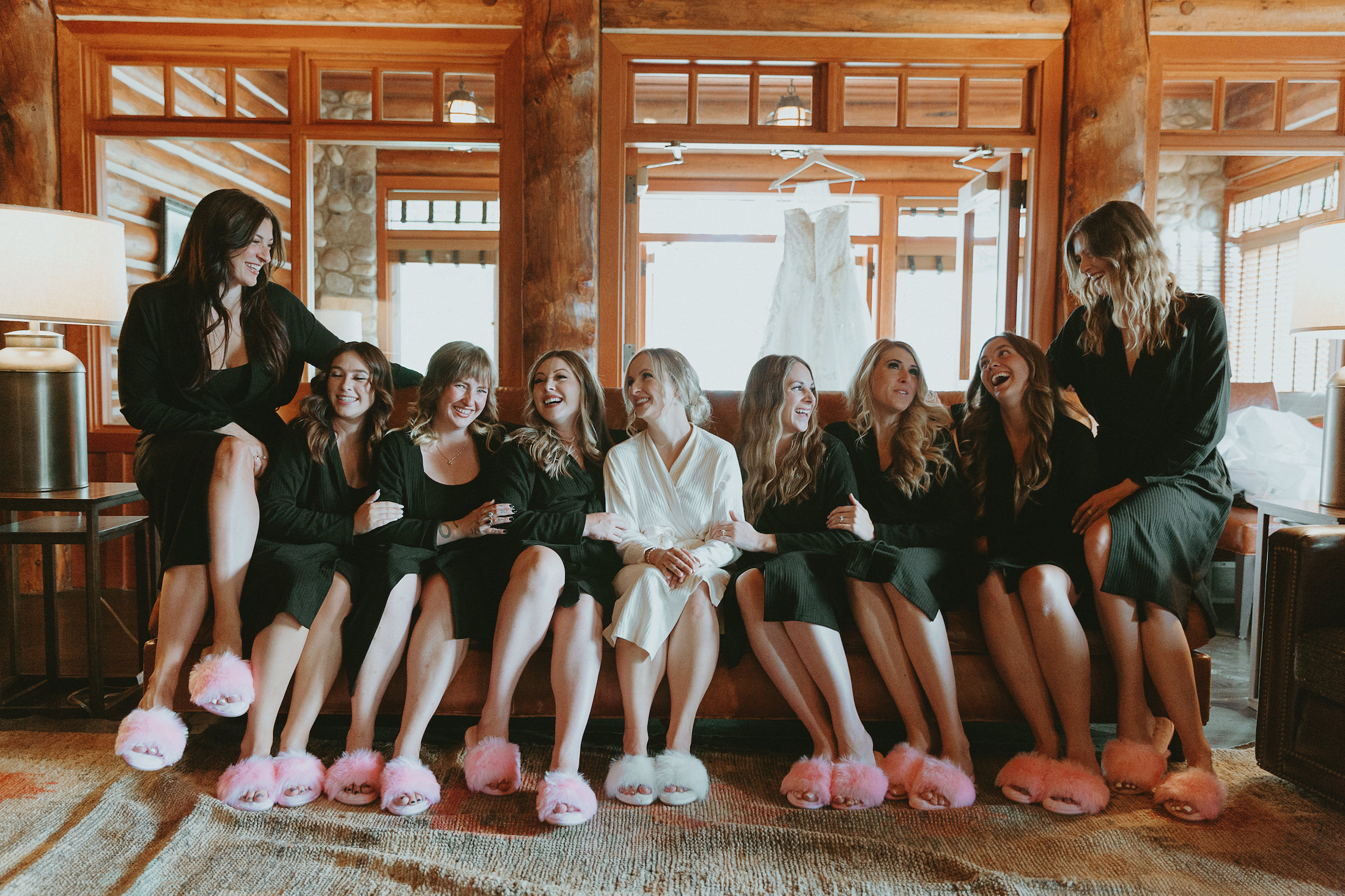 Signature Cabin Weddings
Our Signature Cabins offer the perfect locations for a truly unique celebration. Each is entirely self-contained and sleeps two to 16 guests in plush comfort. Character abounds with wildlife-themed great rooms, original polished-log construction, grand stone fireplaces, and huge verandas.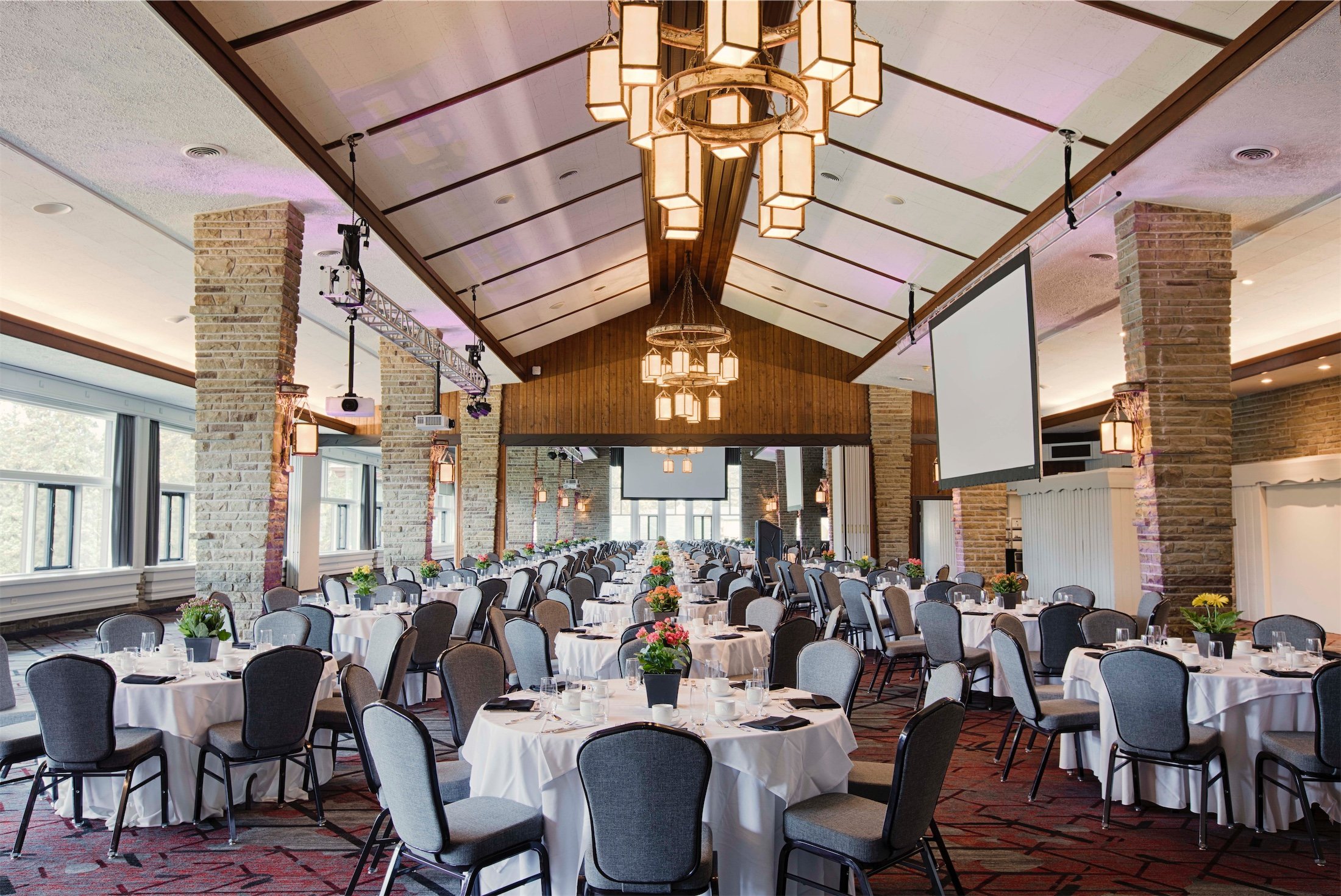 Sit down for a lavish five-course feast or tantalize your guests with artful hors d'oeuvres on the deck with unforgettable views. Create a bespoke menu that reflects your unique culinary vision or serve a menu designed by our expert culinary team.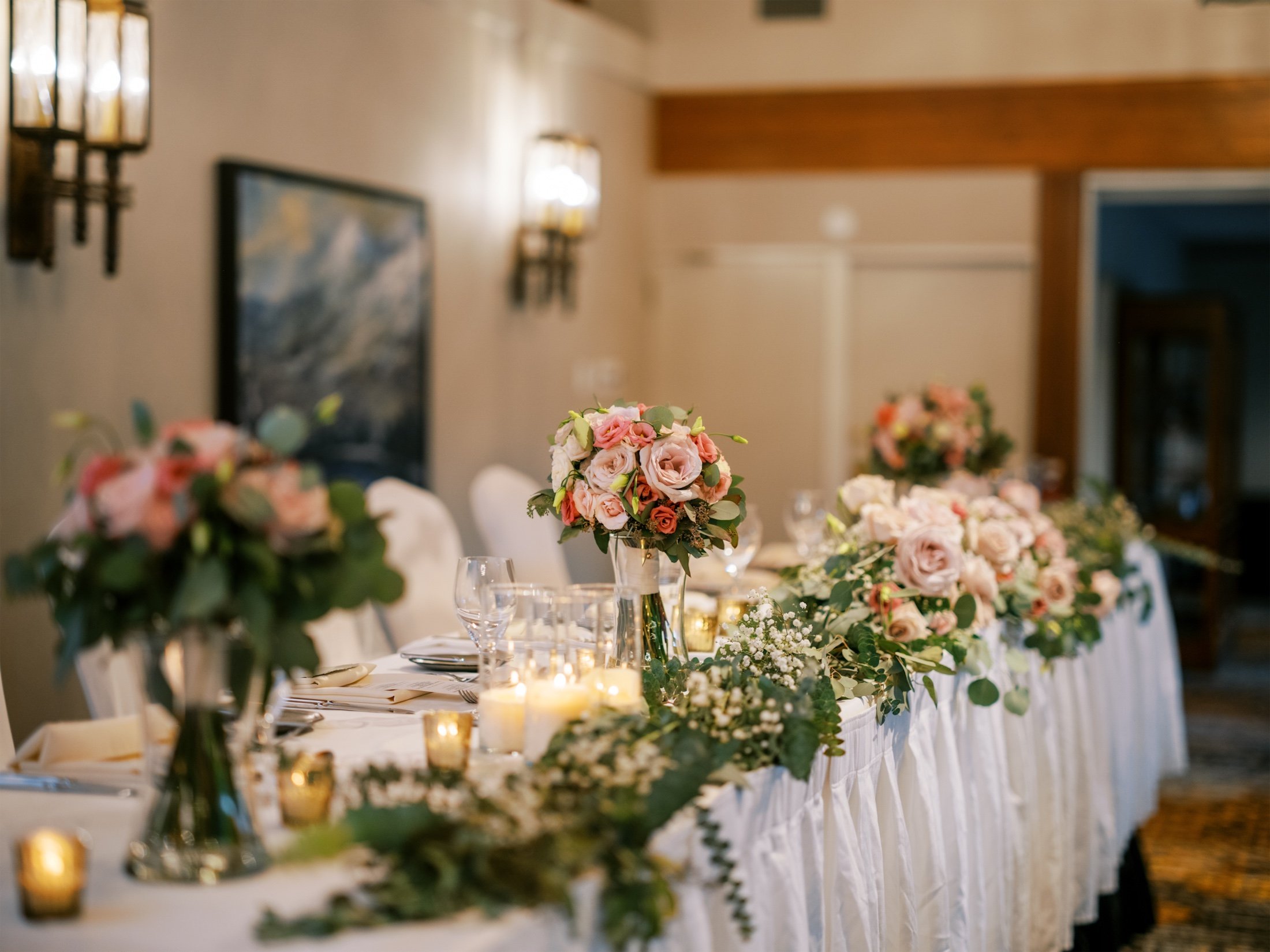 Floral Design & Decor
Create your ideal wedding atmosphere with beautiful and unique floral accents for your special day. Jasper's creative local florists can help you get inspired and design the ideal look for your wedding.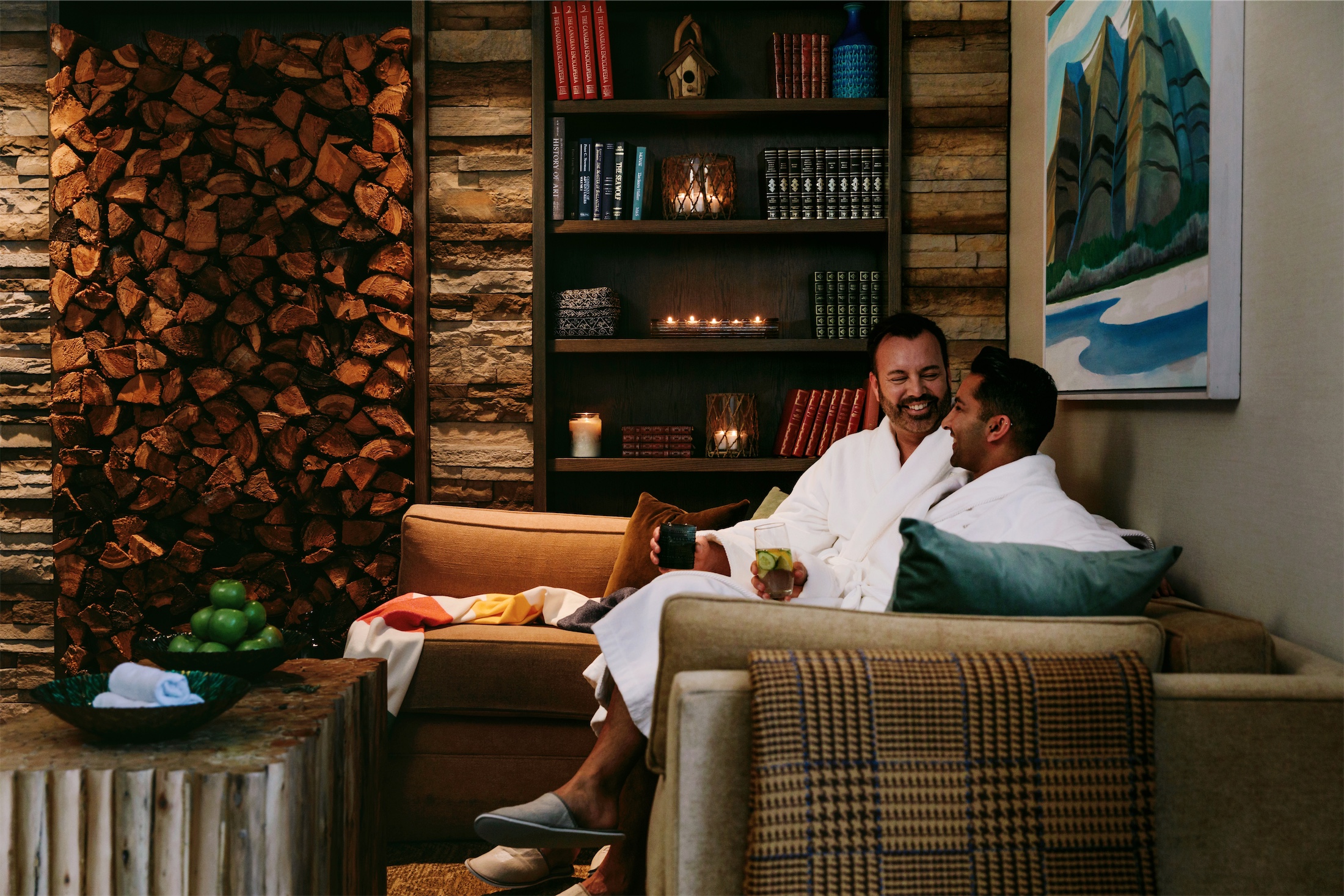 Spa Bliss
Make the day even more special with serene spa treatments for you and guests. During your planning visit we are happy to offer a $40 voucher.
Special Rates
Your wedding guests will love our village of heritage log cabins connected by picturesque paths. Receive a discounted rate when you secure a minimum of 8 rooms per night in your room block.