Getting Here
Fairmont Jasper Park Lodge is located on Old Lodge Road, Jasper, Alberta, Canada. Approximately four hours from Edmonton International Airport and five hours from Calgary International Airport, let the breathtaking landscapes of the Jasper National Park welcome your arrival.
Edmonton International Airport (YEG) is located 242 miles (390 km) from Fairmont Jasper Park Lodge. Travel time by car is approximately 4 Hours
Calgary International Airport (YYC) is located 270.296 miles (435 km) from Fairmont Jasper Park Lodge. Travel time by car is approximately 5 Hours
From Edmonton International Airport:
Merge onto AB-2 North via the ramp to Edmonton
Take Anthony Henday Drive exit on the left
Merge onto AB-216 West
Take exit 24 for Alberta 16 West/Yellowhead Trail west (345 km)
Turn left onto Maligne Road (follow signs for the Fairmont Jasper Park Lodge.
From Calgary International Airport:
Head West on Airport Rd NE
Turn left onto Barlow Trail NE
Turn left onto Country Hills Blvd NE
Merge onto AB-2 N via the ramp to Red Deer
Follow AB-1 W/Trans Canada Hwy and Icefields Pkwy/AB-93 N to Lake Louise.
You are now in Lake Louise, 141 miles (228 km) from Jasper
Leaving Lake Louise, exit onto Hwy 93. Keep your eyes open, because the sign for Hwy 93 is easy to miss. Drive for 228 km – get your camera ready!
You are now entering Jasper. At the lights, turn right and follow the signs
The exit for The Fairmont Jasper Park Lodge is after the town site on your right
You'll cross a black steel bridge and follow the Old Lodge Road
Airport shuttles are available via Sundog Transportation and Tours from the Calgary International Airport and Edmonton International Airport to Fairmont Jasper Park Lodge with regularly scheduled service. Schedules and rates are subject to change without notice.
Please email our Concierge Team for current schedules and pricing, advance reservations are recommended.
Taxi and private vehicle services are available from Calgary and Edmonton International Airport and can be arranged by our Concierge Team. Rates are subject to change at short notice. For current pricing and availability please email Concierge.
The closest airport to Fairmont Jasper Park Lodge is Edmonton International Airport (YEG).
Edmonton International Airport (YEG) is located 389 kilometres (242 miles) east of the lodge. The drive takes approximately four hours. Most major airline carriers fly into Edmonton.
Calgary International Airport (YYC) is located 438 kilometres (272 miles) southeast of the lodge via the Icefields Parkway. The drive takes approximately five hours. Most major airline carriers fly into Calgary.
All major car rental agencies are represented at the Edmonton and Calgary International Airport, and some are in the Jasper town site.
Reservations are required.
700 acres, 442 guest rooms and signature cabins. It can be difficult to find where your accommodation is located. Discover where each room type is located on the Property Map.
Self parking for our guests is always complimentary.
However, the hotel also offers valet parking service for a price of $45 per night plus taxes for our guests. We are pleased to offer free valet parking for hybrid vehicles.
We have two Tesla charging stations on-site at Fairmont Jasper Park Lodge. If you have an electric vehicle that you are bringing to the hotel you will be required to call the hotel directly to reserve your spot. Please call 1-780-852-3301 to reserve your spot.
Experience Fairmont Jasper Park Lodge
Experience the beauty and serenity of Alberta's Jasper National Park at Fairmont Jasper Park Lodge. Go for a hike or join a tour to discover the stunning surroundings, or hit the links on Canada's #1 Golf Resort Course. Our resort offers a variety of activities on land and water, so you can make the most of your visit.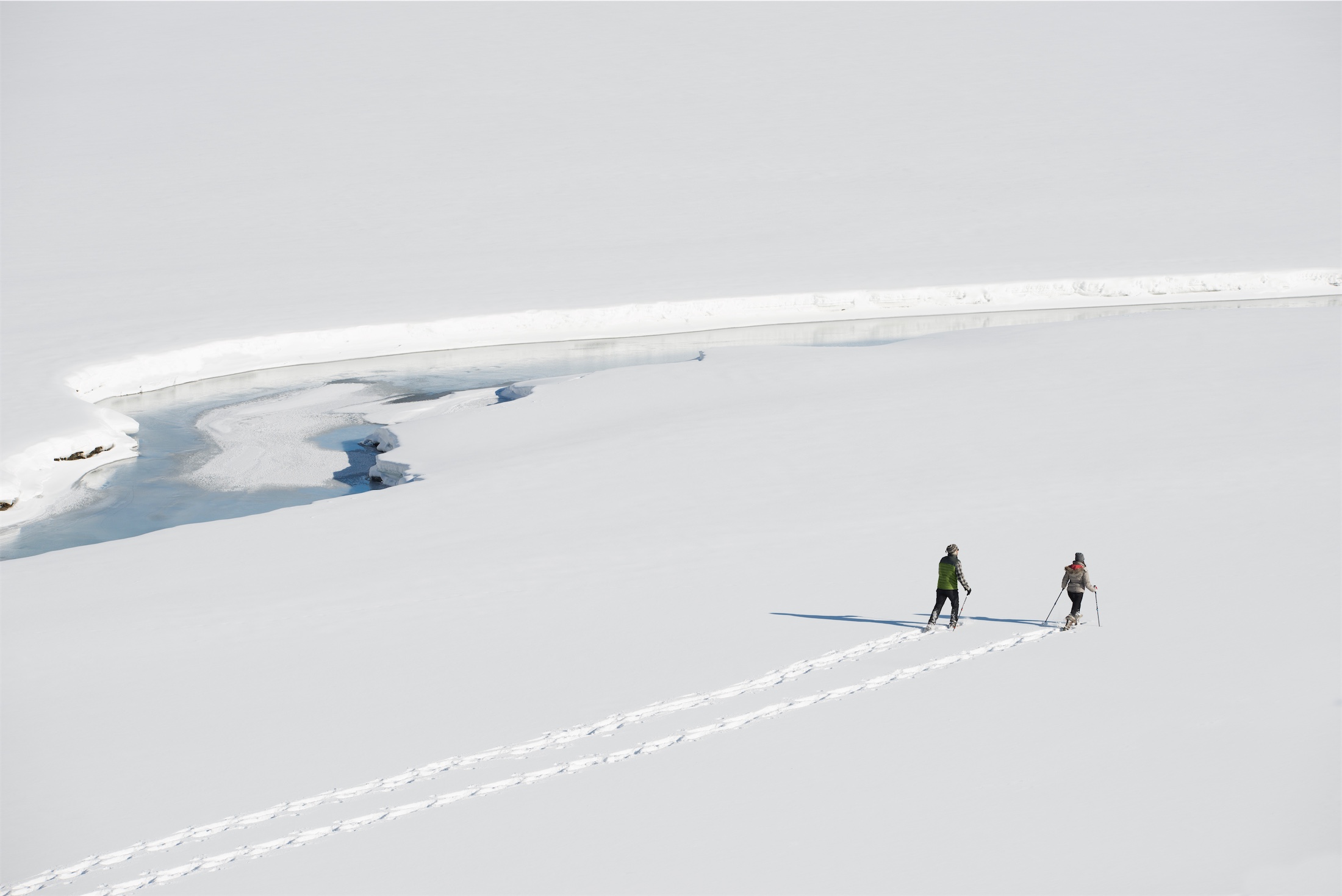 Winter Activity Centre
From enjoying a traditional Canadian pastime on Lake Mildred to trying a new form of skiing on one of our groomed trails, there's an activity for all ages to experience this winter season and our Winter Activity Centre located at the Golf Clubhouse will help you find it!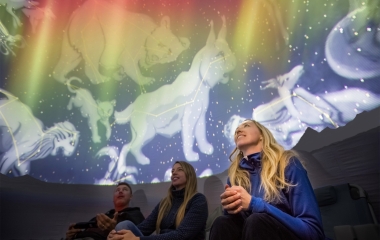 Planetarium
Join astronomy experts at Fairmont Jasper Park Lodge for a stargazing experience through the largest and most powerful telescope in the Rockies! You'll also have the chance to look at the latest 4K "instant-replays" of live views from the telescope and get up close with a meteorite.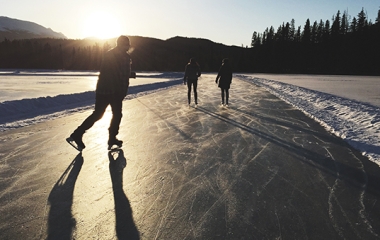 Mildred Ice Rink
Lake Mildred features a 1 Km round-the-lake oval and 4 hockey rinks for pick-up games. Complimentary rentals of skates, helmets, hockey sticks and pucks are available at the Winter Activity Centre. Skate sharpening is also available.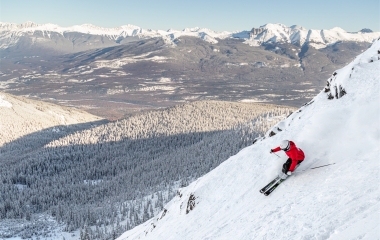 Marmot Basin
Immerse yourself in the Canadian Rockies, where you can summit great peaks, curl up fireside with s'mores, and hit the slopes for epic skiing conditions and top of the world views. For those hoping to escape the crowds, Jasper is just the place for you.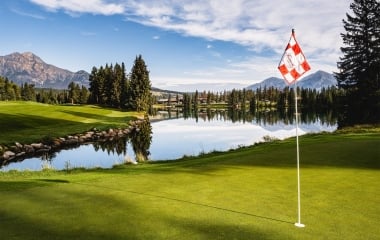 Fairmont Jasper Park Lodge Golf Course
18 greens arranged around breathtaking panoramas of the park's glassy glacial lakes, hulking snow-capped peaks and fairways framing lush forest. A wildlife corridor runs through it, too — home to resident wolves, bears, caribou, elk and Canada geese. It is truly hard to beat the winning combo of design guru Stanley Thompson's demanding play with drop-dead-gorgeous scenery. Many call this the golf architect's finest work.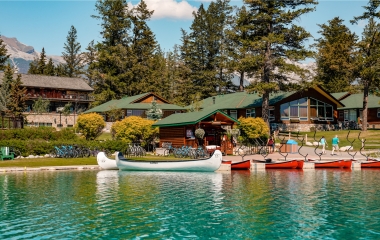 The Boathouse
Stop in at the cheery Boathouse log cabin in late spring, summer and fall to rent mountain bikes, canoes, kayaks, stand-up paddleboards and other gear by the hour. Ride the many trails crisscrossing JPL's 700-acres and paddle around crystal-clear Lac Beauvert at your own pace.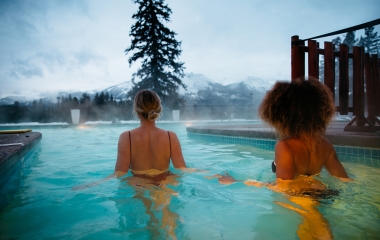 Pool
Overlooking the lawn, lake and craggy peaks beyond, our large, heated outdoor pool is a resort favourite. Dip in, evening is a perfect time to warm up in the hot tub and watch the sunset over the mountains.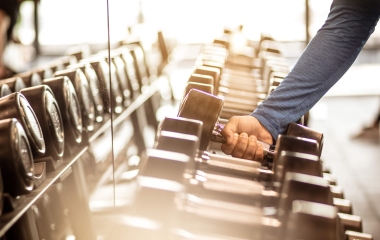 Fitness Centre
Our modern fitness centre has everything you need to stay fit at your home-away-from-home: ellipticals, stair steppers, weights, yoga mats and stationary bikes. Sign up for one of our expert trainer-led fitness classes: yoga, super stretch and an all-levels-welcome running club. End your session with a stint in the sauna or steam room, then hit the outdoor hot tub. You've earned it.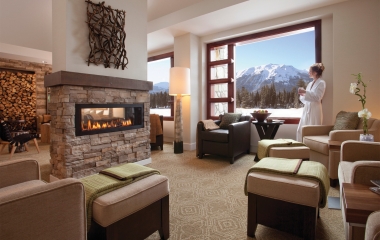 Fairmont Spa
Welcome to a place inspired by nature's elements. A powerful yet gentle force that constantly gifts new perspectives. A chance to rediscover your natural rhythm and experience a greater level of reconnection. Fairmont Spa: Nourished by Nature.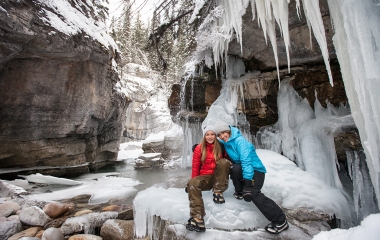 Maligne Canyon
A series of bridges crossing the canyon allow you to tower over impressive frozen waterfalls and canyon walls up to 50 meters tall!
Loading map ...