Dine at Fairmont Jasper Park Lodge
Eat indoors or out, go upscale or casual, and enjoy memorable meals with friends and family. Celebrate, refuel, and toast on the resort. Sample everything from made-to-order sushi, fresh fish, and prime chophouse cuts to burgers, sandwiches, and salads at our beautiful dining venues, all with delectable seasonal menus and stunning Rocky Mountain views.
Dine With Us
Indulge in a range of dining options at Fairmont Jasper Park Lodge, from casual bites to fine dining prepared by an exceptional culinary team. Enjoy memorable meals with friends and family in this modern alpine setting.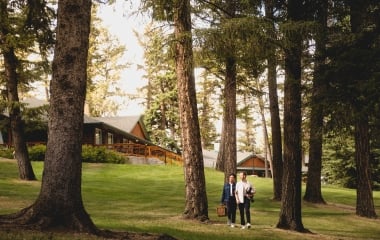 Cabin Corner
Nestle into the forest covered corner just outside Outlook and Point Cabin. The grassy area down the hill is perfectly shaded and equally beautiful as the late afternoon sun spills in through the trees.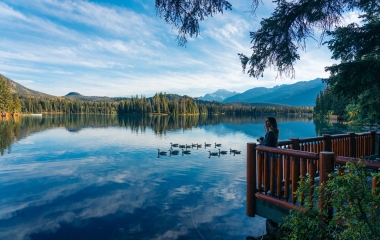 The Sundeck
These lakeside mini decks are the perfect cove to tuck into for an afternoon picnic. Recline and dine in Adirondack chairs while overlooking the emerald waters of Lac Beauvert. A collection of sundecks are situated around the lake so you can take your pick of Whistlers, Signal or Pyramid Mountain as a scenic centerpiece.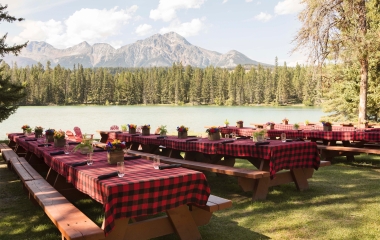 Trefoil Lake
Almost as if it was made for the moment, there are no shortage of picnic tables down at Trefoil Lake. Featuring private views of Pyramid Mountain, this picturesque spot is by far the quietest on the list. Made for the biggest of groups or table for two, Trefoil Lake is the hidden gem on property accessible by trail on the far side of the grounds. This is where you'll want to grab that quintessential checkered blanket shot!
*Tablecloths and table décor not provided.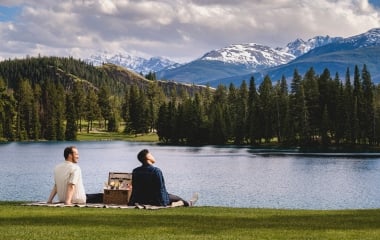 Whistler Plateau
Just a short stroll away from the Main Lodge is Whistler's Plateau. As the name suggests it provides sprawling views of Whistler's Mountain and even a glimpse of the golf course's 16th tee across the lake. The wide vista opens up leaving plenty of space to lay out your gram-ready picnic setup.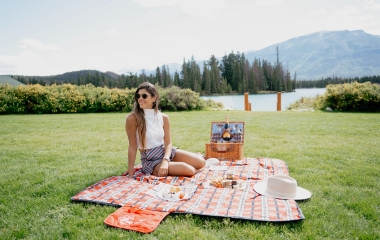 Beauvert Plateau
Located in the center of the action, it's the perfect spot to add some props to your pictures. Choose from an abundance of backdrops featuring the Main Lodge, The Boathouse, beautiful lake and mountain views or the surrounding suites.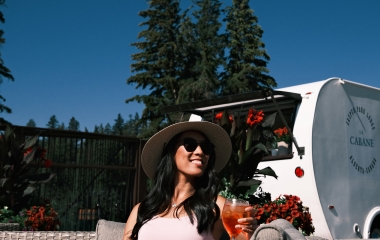 La Cabane Pool Bar
This summer, experience La Cabane, our paradise inspired cocktail bar located right next to our outdoor pool.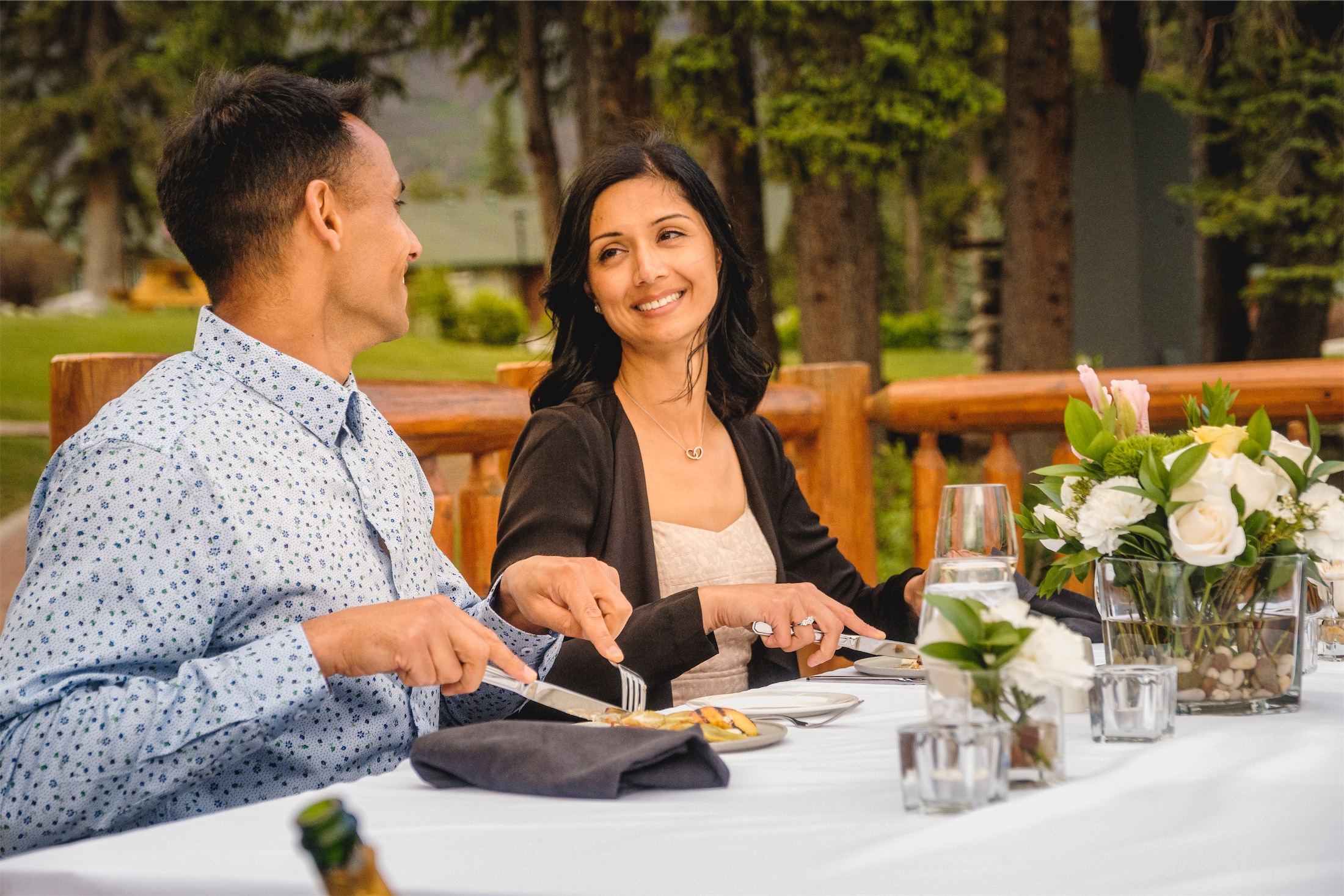 Sundeck Dining
A culinary experience like no other, and without a doubt one of the most spectacular dining settings in all of the Canadian Rockies. With your own private sundeck overlooking Lac Beauvert and Whistlers mountain you'll be served a private gourmet meal designed specifically for you by our Chefs.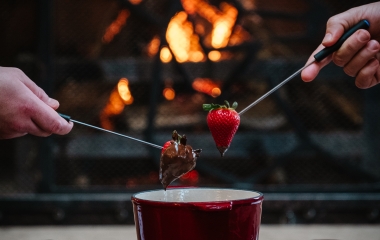 The Nook
A premium full dinner buffet featuring smokehouse appetizers and Alberta meats.
7th Tee Hut
Nestled between the 6th green and 7th tee, and offering hot dogs, chili, snacks and beverages, this is the perfect setting to rest and refocus.
Thompsons Terrace to Go
Your one stop shop for coffee, sandwiches, wraps, cold beverages (including our JPL Premium Lager) and anything else you might need for your round.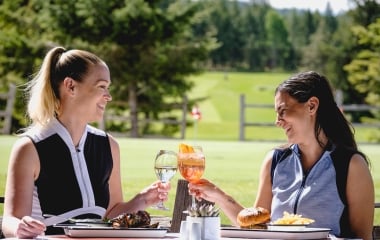 Thompsons Terrace
Enjoy cocktails and delectable Greek cuisine on the beautiful outdoor patio or grab coffee, sandwiches, beverages and anything you might need for your round, to go.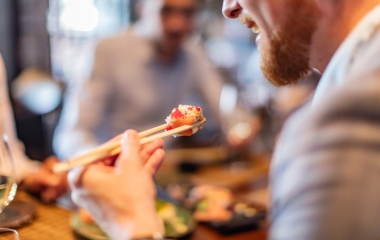 Oka Sushi
Master Sushi Chef Tatsuhiko Okazaki invites you to an experience rolls out gleaming chunks of fresh bluefin tuna and octopus, and custom rolls that resemble miniature works of art, made from handpicked ingredients.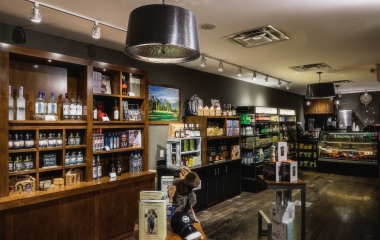 Fitzhugh's Fine Foods
Located in the Lower Lobby of the Main Lodge, Fitzhugh's Fine Foods offers a curated selection of grab-and-go beverages, snacks, and picnics!
Emerald Lounge
Come for true north cuisine, classic cocktails and a frosty pint of our JPL Premium Lager in the comfortable living room-style space with high ceilings, softly lit lamps and chandeliers, and a dramatic wall of windows taking in the famous landscape.
The Great Hall
Enjoy a classic lodge setting with modern Canadian fare. The Great Hall offers breakfast, lunch and dinner à la carte, and an extensive selection of wine, craft beers and cocktails and take in unparalleled views from the restaurant overlooking Lac Beauvert.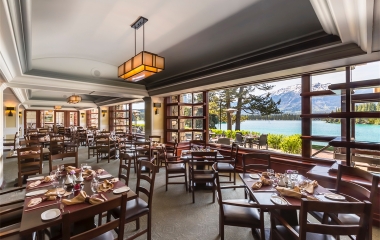 Orso Tratorria
Hankering for carpaccio and handmade pasta, or perhaps just a premium cut steak? Deliciously rustic Italian fare stars at Orso Trattoria, a casual spot with sophisticated menus and postcard panoramas of the blue-green lake and snow-capped peaks.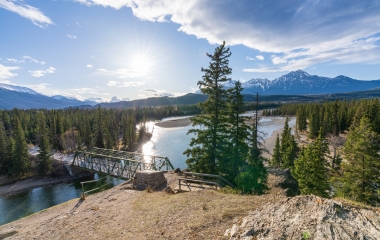 Old Fort Point
Old Fort Point is a prominent bedrock hill standing 130 m above the river. Rounded on its south side, cliffy on its north side, Old Fort Point is a classic roche moutonnée: a bedrock knob shaped by glaciers.
Driving Distance: 13 minutes
Loading map ...