Things to Do
An Un-FUR-gettable Dog Vacation in Jasper
Gone are the days of hiring a pet-sitter while you set off to enjoy your holiday. Find out about the best pet-friendly resort in Jasper!
Just a dog-eared corner away in Jasper National Park – Fairmont Jasper Park Lodge is ready to treat your beloved four-legged friend and your family to a one of a kind Rocky Mountain getaway. When you stay with us, you'll enjoy unique and memorable activities that take furry friends into account. Not only can you bring your best friend along for vacations on our 100-year old property, but we will let you in on all the local hotspots for dog friendly hikes, things to do in Jasper and even offer you a one-of-a-kind Pet Menu for your dog's dining pleasure!
The Furmont
At Fairmont Jasper Park Lodge, we believe that pets are part of the family and should be treated as such. We hope to make traveling with your furbaby easy and fun with a stay specifically designed to ensure your pet has everything they need for an unforgettable vacation. And we don't just mean during your stay at the Lodge — we want you to create memories together that last a lifetime. Whether it's hiking through the great wilderness or relaxing in a cozy cedar cabin, there are always ways for you and your pup to get closer than ever before.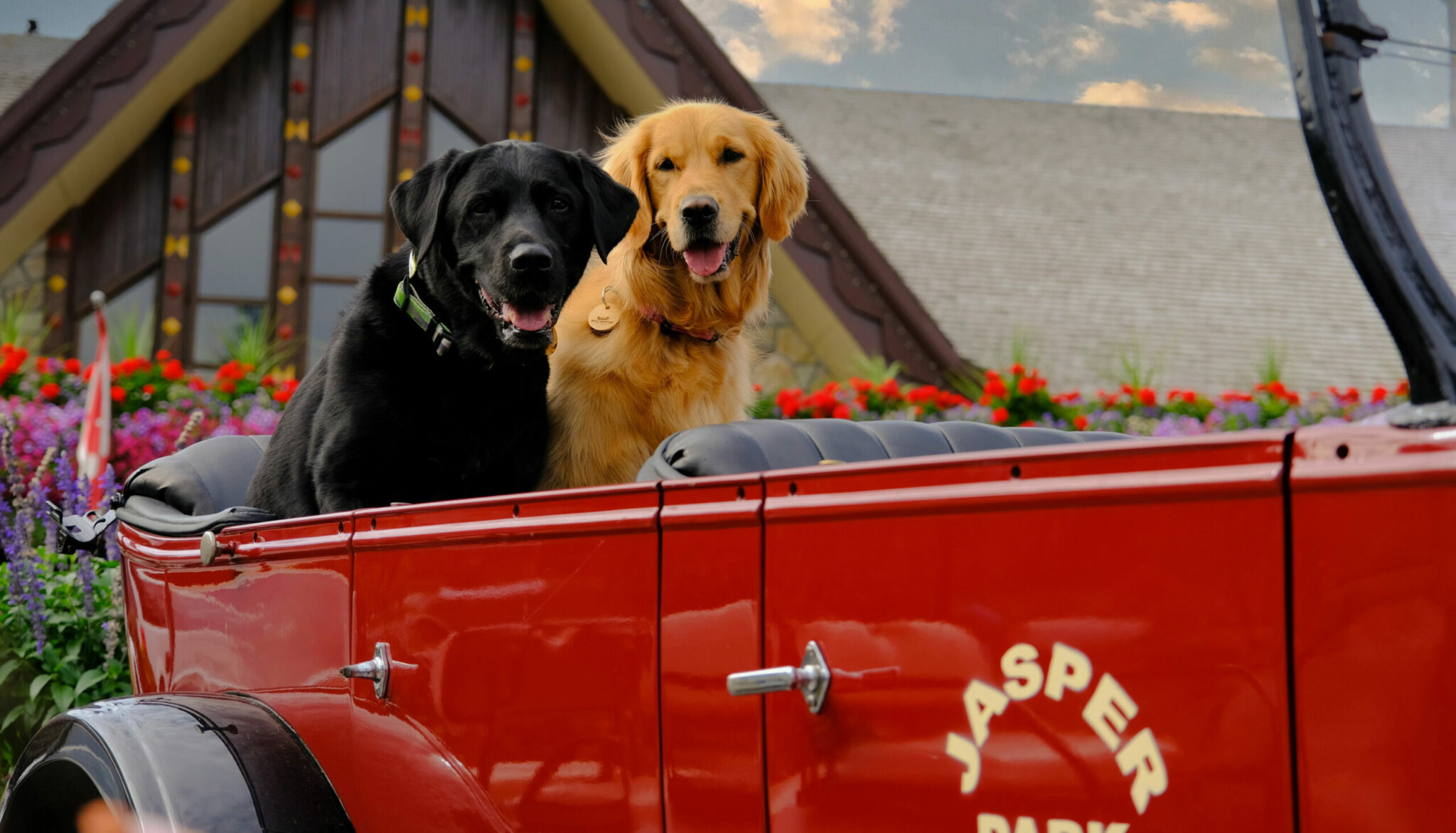 All guests at Fairmont Jasper Park Lodge are welcome to bring their pets along for an additional charge of $50 per room, per night. This fee applies to all pets and covers deep cleaning services and a special pet amenity. To help keep your furbaby comfortable during their stay, we provide a dog bed, bowls for food and water, and a special welcome gift from our Canine Ambassadors, Stanley & Calla!
Your pup will be right at home in this gorgeous mountain setting — and so will you! Our accommodations are designed with pets in mind, so they're spacious enough for both you and your dog to stretch out and relax in comfort.
Here are some things to do during your stay at the Furmont Jasper Park Lodge.
Visit the Boathouse
Hit the open water with your furry friend. There is plenty of room for an extra 4 legs on our stand-up paddle boards, in a canoe or a kayak, which can be rented from The Boathouse. You'll get the best views of the lodge from the middle of Lac Beauvert and the perfect photo ops for the Dogstagram!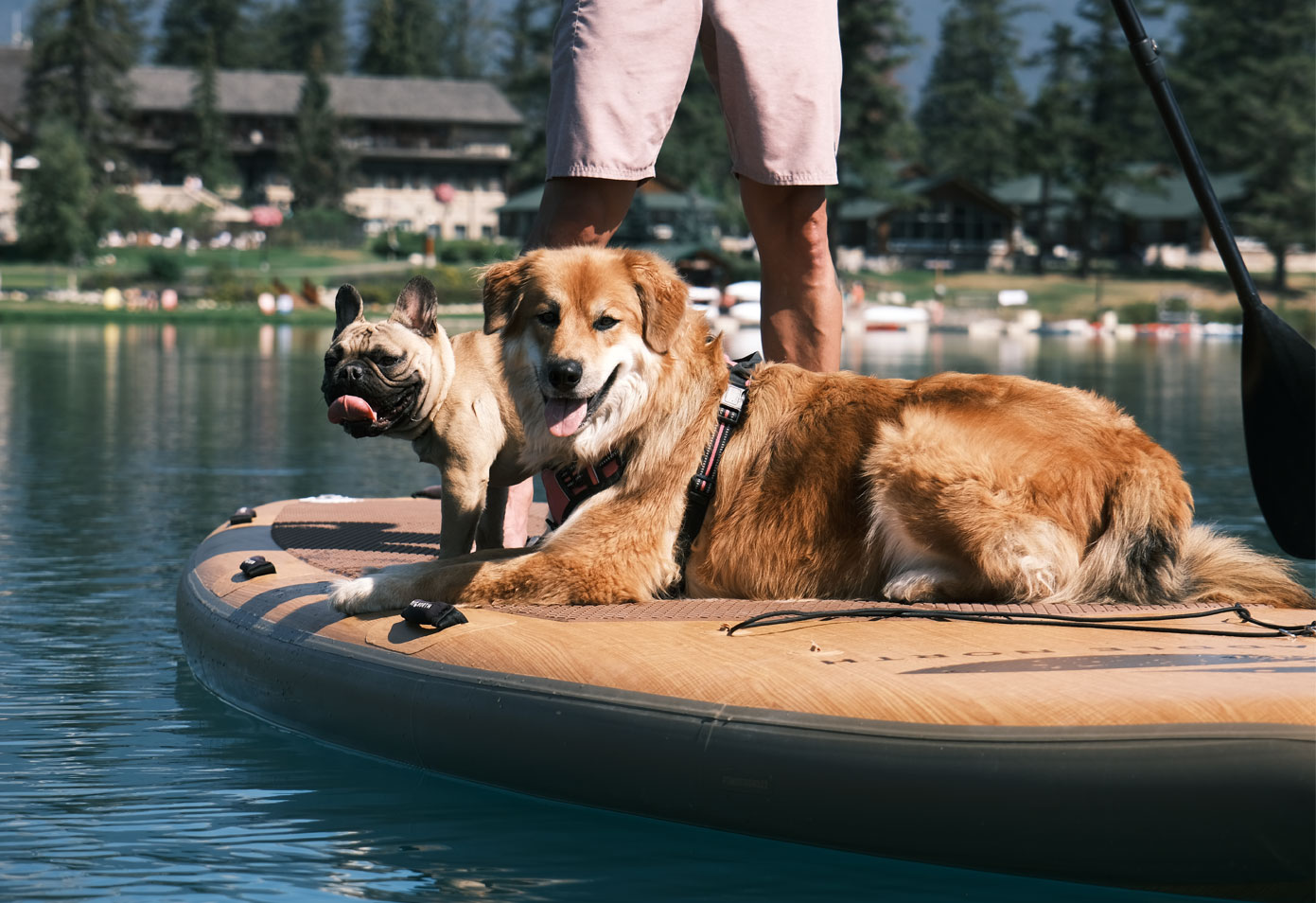 A Feast Fit for a Furry Friend
Warning! Excessive drooling may occur! A big walk means working up an even bigger appetite! This carefully curated Pet Menu offers healthy options for your pooch to devour after a long day of tail wagging. Meals vary from plant-based options, chicken dishes and even a salmon serving for those pups with an acquired taste.
We cannot forget the most important part of any meal, TREATS! Spoil your pup with a freshly baked, warm Banana Peanut Butter cookie! Enjoy a meal with your pup in any of our pet friendly dining areas, including the lobby area of Emerald Lounge or either of our outdoor dining patios. BONE Appétit!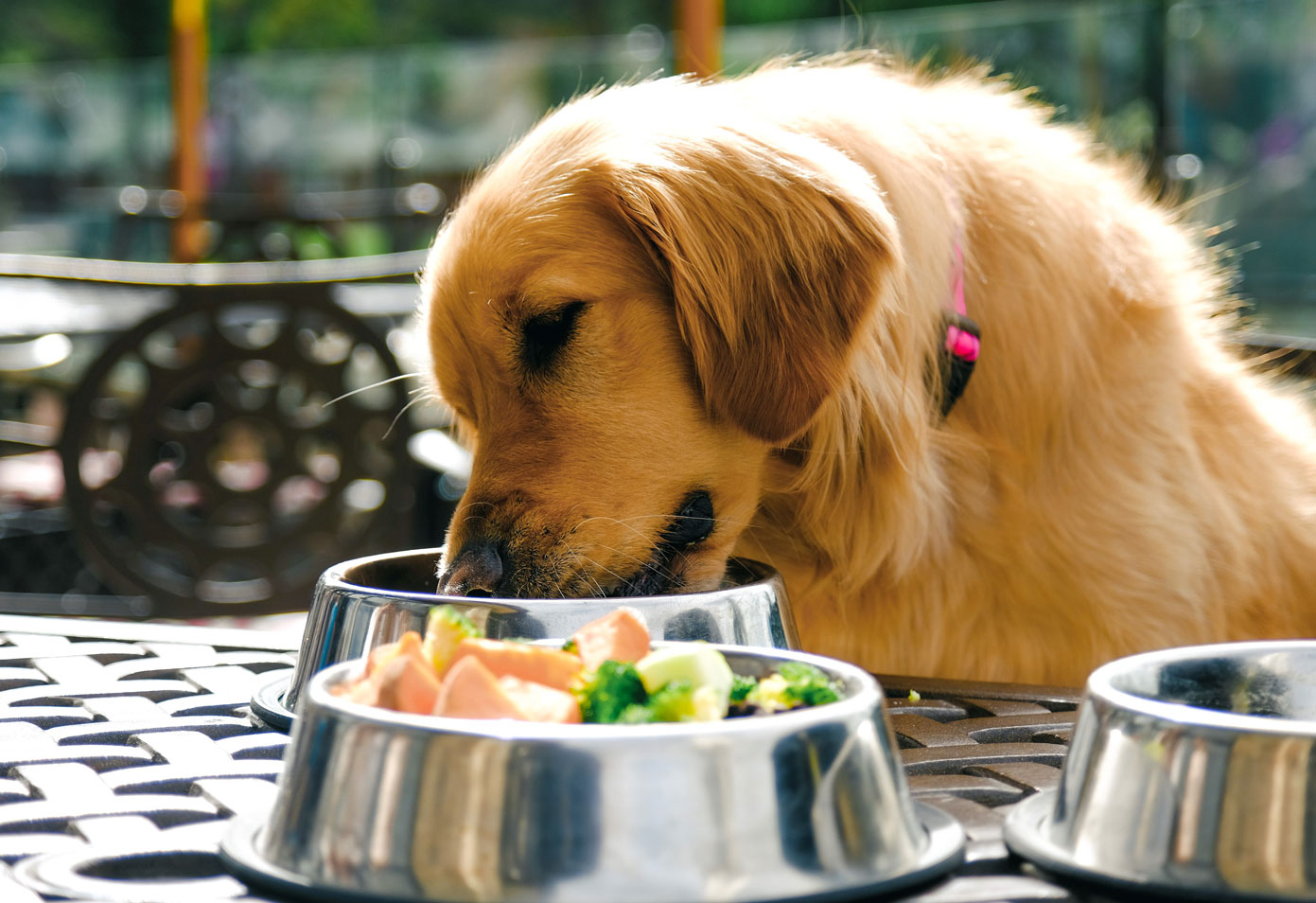 Out And About
The perks of travelling with your pet to a national park does not stop within our resort perimeters. Although our comfy beds and spectacular cabin views are perfect for your pup to relax in, you don't have to leave your pet in the hotel room all day. Take your furry friend to new heights and unique terrains that they have never seen before and enjoy your vacation as a whole family. The Jasper SkyTram allows dogs for only $6, making it a super affordable excursion for your furry friend to join in on. For those pups who tend to enjoy more of an adventure, the Jasper Raft Tours offers dog tickets at $10 a dog, another affordable option for a canine family-friendly water ride adventure!
Learn all about the pet-friendly Jasper local offerings here.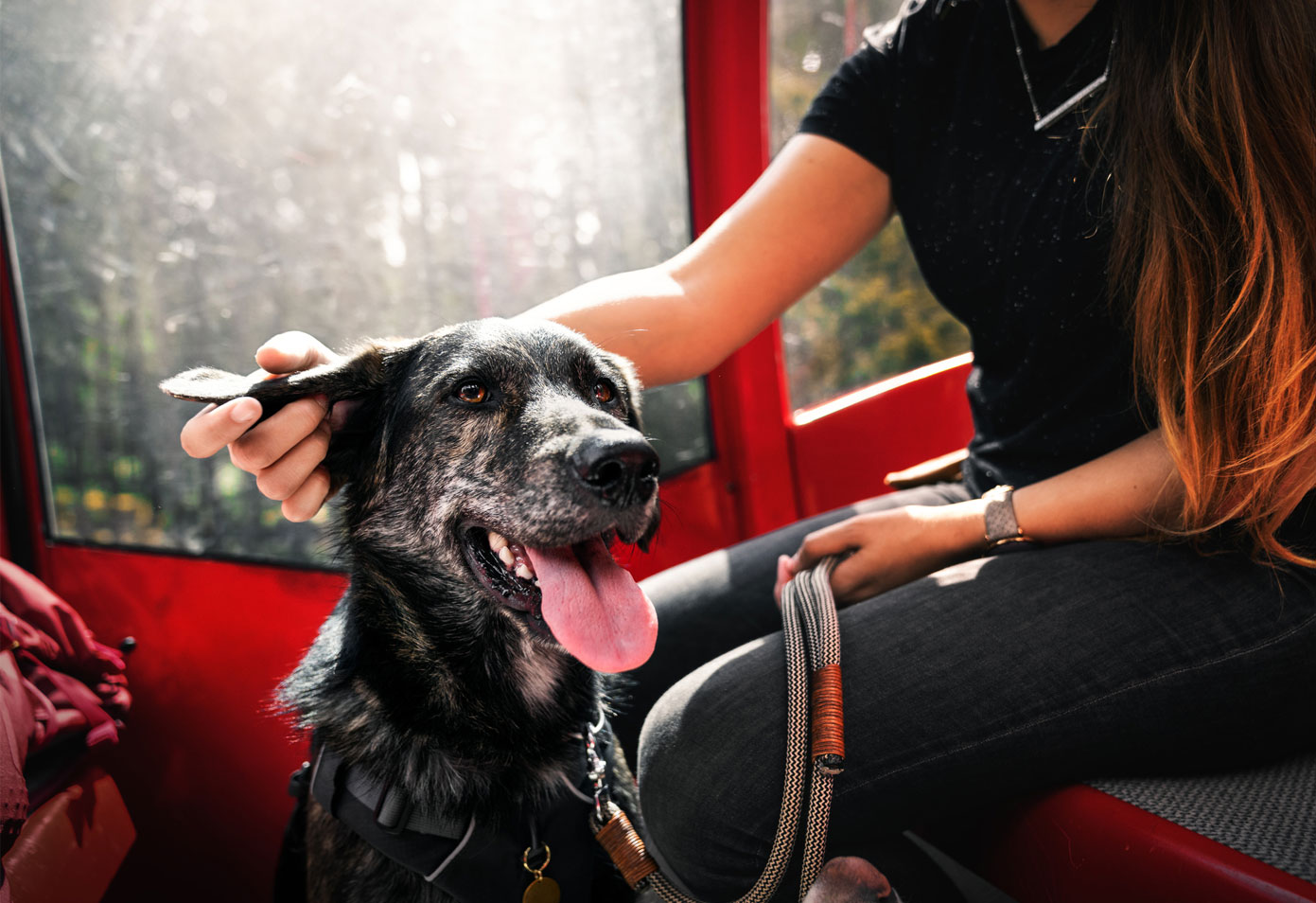 Dog Friendly Hikes
All pups would agree that a W-A-L-K is an essential part of their daily routine, especially for those of high energy breeds. The Lac Beauvert Loop on property is the perfect pet friendly hike for you and your companion to experience a 360 degree glimpse of the crystal blue waters of Lac Beauvert. With it only being a total of 5.3km, it is the perfect trail for beginner hikers and yields beautiful views while being enough of a distance to exercise your dog throughout the day.
Some other dog friendly hikes include Old Fort Point, Valley of the Five Lakes, Whistlers Mountain, Jasper Lake, Palisade Lookout, Jasper House and Wilcox Pass. Please speak with our Concierge Team located in the Main Lodge for trail maps and more information on trails that do not allow dogs due to the safety of our wildlife.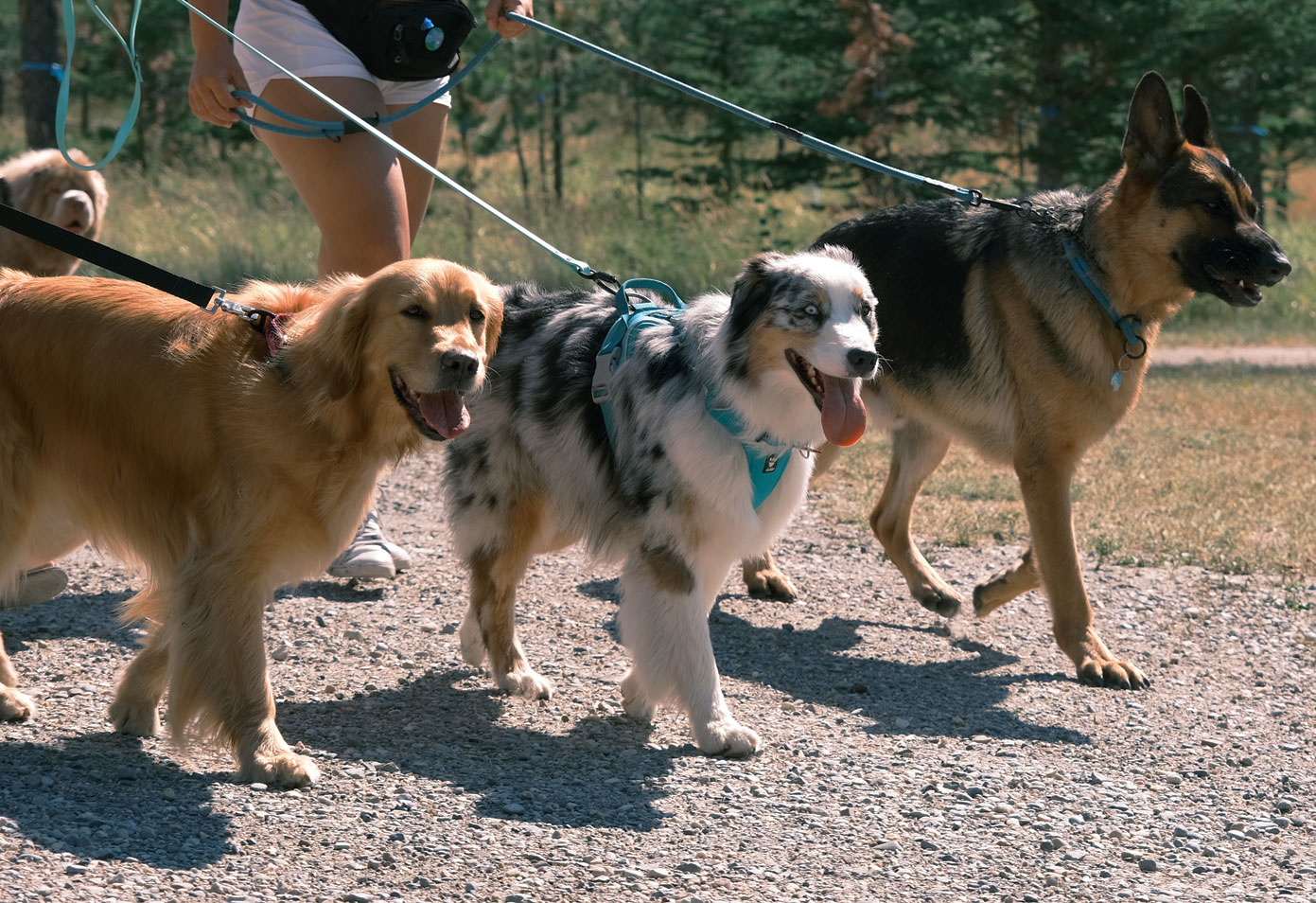 Trail Wagging Tips
Saved by the bell – It is a good idea to equip a small bell to your pups collar, harness or leash on a walk to warn off any unsuspecting wildlife that may be joining along for the walks.
Keep hydrated – Hydration is important for both you and your canine companion to feel your best. Feel free to stop at a watering hole that is Jaspers glacier lakes. If you know you're going to be out and about for a while consider bringing an extra bottle of water for your pup with a collapsible bowl for them to keep hydrated.
Know your dog's limits – Dogs come in all shapes, sizes, ages and stamina levels. Some hikes can be tougher on our four legged friends than we think. We recommend consulting your vet on what is healthy for your dog before you set out to the top of the peaks.
Keep our parks clean – Being a responsible pet pawrent includes cleaning up after your pet. You can pick up extra dog waste bags at our concierge desk before you head out on your walk.
Packing for Your Pooch
In preparation for your mountain adventures, here is a list of items that will be helpful in keeping your pup comfortable on their journey. If you prefer to travel light, you can pick up your pup's favourite food at any of the places listed in our Pet Policy. Please remember to pack a harness, collar and leash. Parks Canada regulations state that all domestic animals must be kept on a leash. Whilst some dogs are born with coats equipping them well to tolerate chilly climates that often occur at high peaks, some shorter-haired dogs will get cold. A doggy raincoat or jacket is the perfect extra layer to pack in preparation of the ever-changing mountain weather. If you plan to hit rougher terrains or are visiting in winter, invest in some doggy hiking shoes or booties with a good grip (if your dog tolerates it). When the snow is packed and ice is too cold, try picking up some Musher's Secret in town.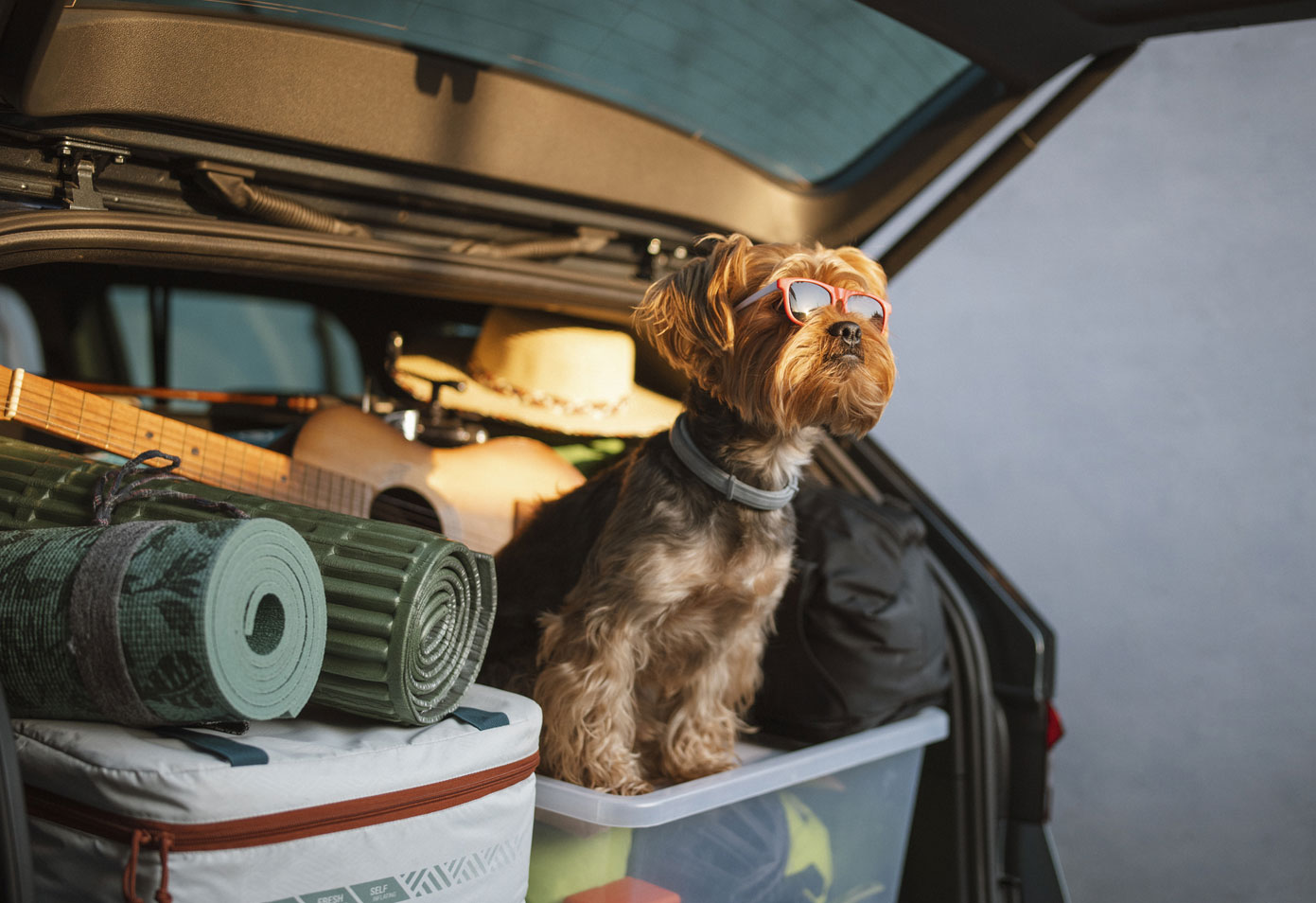 Ready for the Rockies?
Travel with peace-of-mind with your four-legged friend. Cesar Millan would agree that there's no better way to bond with your dog than by bringing them along on one of your escapes. We're proud to be a pet-friendly hotel in Jasper National Park and are ready to show you what a Rocky Mountain adventure with canines is all about.