Orso Trattoria
Dive into modern Italian fare with fresh ingredients and stunning vistas. Dinner menus revolve around authentic Italian recipes featuring the finest in regional ingredients and the highest-quality steaks. It all tastes even more superb with the dramatic bird's eye views of Lac Beauvert and the surrounding peaks.
LOCATION
Old Lodge Road
Jasper, Alberta T0E 1E0
HOURS
Orso Trattoria
Breakfast | Daily | 6:00 a.m. - 11:00 a.m.
Dinner | Daily | 5:30 p.m. - 9:00 p.m.
The Classics

The Omelet | $26

3 Free-Range Eggs, Seasonal Greens, Home Fried Potatoes Choose 3 Omelet Fillings: Ham, Cheddar Cheese, Goat Cheese, Green Onion, Bell Pepper, Mushroom, Tomato, Spinach, Bacon

The Benedict | $28

2 Poached Free Range Eggs, English Muffin, Canadian Back Bacon, Hollandaise

The Traditional | $26

3 Free-Range Eggs Your Way, Home Fried Potatoes, Charred Tomato Choice of: Thick Cut Bacon, Pork Sausage or Chicken Apple Sausage

Pyramid Pancake Stack | $21

Buttermilk Pancakes, Cherry Compote, Cheesecake Cream

Field Berry French Toast | $22

Spiced Brioche, Field Berry Compote, Mascarpone Cream

Great Hall Signatures

Chorizo Poutine Skillet | $27

Chorizo Sausage, Home Fried Potato, Peppers, Onions, Egg, Smoked Cheddar, Hollandaise

Salmon Cake Benedict | $28

Arugula, Dill, Fried Capers, Hollandaise, Pickled Onions, Radish, Sundried Tomato Pesto, Cucumber, Poached Eggs

Salsa Fresco Avocado Toast | $23

Gem Tomato Salsa, Arugula

The Cinnamon Bun | $23

Fruit Bowl & Fresh Pressed Juice

Healthy Start

Greek Yogurt Granola | $16

Peach Compote, Granola, Pumpkin & Chia Seeds

Apricot & Date Overnight Oats | $19

Dried Apricot, Dates, Oats

Tropical Overnight Oats | $19

Pineapple, Mango, Coconut

Fresh Additions

Turkey & Apple Sausage | $7

Fresh Pressed Juice

Carrot, Orange, Lemon, Tumeric | $11

Apple, Spinach, Kale, Celery, Lemon, Ginger | $11

Beverages
Orso Breakfast Buffet


Warning: Invalid argument supplied for foreach() in /htdocs_20230531/content/themes/base/templates/layouts/pricing-menus.php on line 75


Piccolo

Oregano Foccacia

Oregano, Roasted Garlic, Induja Butter

Scrambled Eggs

Grilled Asparagus, Truffle, Fontina

Prosciutto & Brassica

Poached Egg, Pecorino Romano, Charred Brassica, Prosciutto

Beets & Burratina

Roast Baby Beets, Mosto Cotto, Burratina

Smoked Salmon

Sourdough, Smoked Trout Roe, Arugula, Pickled Onions

Truffle Gnocchi

Brown Butter Mustard Seed, Truffle, Brussel Leaves

Orange & Ricotta Pancake

Honey Roasted Pear, Walnut, Orange Blossom, Fromage Blanc

Benny Alla Italiana

Pancetta, Poached Egg, Ricotta, Sauce Maltaise

Grande

Ravioli di Funghi

Parmesan Foam, Oyster Mushroom, Mushroom Caramel

Bison Bolognese

Parpadelle, Parmigiana, Barolo

Avocado Focaccia

Whipped Avocado, Heirloom Tomatoes, Pine-Nut Hummus, Puffed Granola, Arugula

Polpette Taragna

Polpette, Tomato Sugo, Buckwheat Polenta

Seared Arctic Char

Tomato Conserva, Fennel, Calabrian Chili, Clams

Dolci

Bomboloni's

Caramel, Berry

Berry Crostata

Vanilla Custard, Fresh Berries

Zuppa Inglese

Mousse, Berries

Drinks

Prices are exclusive of taxes and gratuities.

An 18% gratuity is added to parties of 8 or more.

Please inform your server of any dietary restrictions.
La Cucina Italiana

3-Course Menu | $85 per person

Select your choice of Primi, Secondi and Dolci.

Chef's Experience Dinner | 5-Course Menu | $125 per person

Chef inspired choices, curated to your preference.

Our menu is inspired by the cuisine in Northern Italy. Influenced by the bounty of the Mediterranean and the agriculture of the region, this Italian cuisine showcases bold flavors of tomato, fine olive oil, and the fragrance of herbs and spices that have come to define Italian cuisine: oregano, basil and citruses

Primi

Insalata Rossa

Compressed Watermelon, Red Avocado, Balsamic and Watermelon Caviar, Preserved Lemon

Apple Ravioli

Granny Smith Apple, Mushroom Caramel, Roasted Cashew, Cream Cheese, Mint

Grilled Polpo

Grilled Octopus, Salsa Calabrese, Black Olive & Bourbon, Yukon Potato, Garlic Sauce

Venison Carne Cruda e Foie

Venison, Capers, Quail Egg, Kumquat Gel, Foie Torchon, Brioche Crisps

Pozione D'amore Crudo

Citrus Scallop, Butterfly Flower Tea, Lemon Caviar, Grapefruit, Candied Orange

Stinging Nettle Caramelle

Pork Belly, Carrot Butterscotch, Pickled Sea Buckthorn Berry, Puffed Wild Rice, Sorrel

Secondi

Braised Veal Cheek Fagottini

Crispy Sweetbread, Veal Cheek Fagottini, Green Onion Soubise

Zucchini Wrapped Halibut

Pan Seared Halibut, Shaved Summer Insalata, Clam Vinaigrette

Lobster Tortellini

Butter Poached Lobster, Cauliflower Purée, Roast Cauliflower, Cauliflower & Pinenut Relish, Parm Tuille & Vanilla Bean Milk Foam

Pollo Alfredo Tartufo

Confit Chicken, Handmade Pappardelle, Verjus, Black Truffle, B.C. Foraged Mushroom

Pan Seared Venison Loin

Herb Mash, Pan Seared Bone Marrow, Bone Marrow Fat Brioche, Braised Shallot, Chianti Jus

Squash Carbonara

Mushroom Bacon, Pecorino, Spaghetti Squash, Summer Squash

Dolci

Basil Sorbetto

Mint & Basil Gel, Apple Compote, Strawberries

Tiramisu for Two | $15

Mascarpone Mousse, Amaretto-Coffee, Savoiardi, Chocolate Shavings

Lemon Amalfi

Mascarpone Lemon Mousse, Lemon Sponge, Mandarin Gel

Carne

Substitute Carne dishes to your Secondi course for the surcharge noted below. Carne options include a choice of one one Condimenti.

Substitute for Secondi

a la carte price

12oz AAA Alberta Rib-eye

$29

$62

8oz Bison Tenderloin

$36

$68

40oz AAA Cowboy Tomahawk

$110

$160

2oz Dry Aged Pork Tomahawk

$36

$68

Add To Your Experience

Contorni

Herb Infused Mashed Potatoes | $13

BC Roasted Mushrooms | $16

Summer Root Vegetable Salad | $13

Condimenti

Vegan options available upon request.

Please advise your server of any dietary concerns, as not all ingredients may be included in the menu description.
To Start

Mains

Grilled Chicken & Golden Potatoes | $12

Flat Bread Cheese Pizza | $11

Pasta with Meatballs & Tomato Sauce | $11

Steamed Fish with Broccolini & Marinara Sauce | $13

Dessert

Mini Donuts & Chocolate Dipping Sauce | $9

Ice Cream Bear Sundae | $12

Drinks

Bambini Lemonade| | $5

Blackberry Syrup, Lime Juice, Ginger-Ale

Blues Clues | $5

Blueberry Syrup, Lime Juice, Soda Water

Arancia Lake | $5

Orange Juice, Cranberry Juice, Orange Flag

Moana's Isola | $5

Pineapple Juice, Grapefruit Juice, Pineapple Wedge
Sparkling

Veuve Clicquot "Yellow Label" Brut

$33

$160

Reims, France

Taittinger "Prestige" Brut

$29

$130

Reims, France

Alessandro Berselli Prosecco

$16

$76

Veneto, Italy

Sumac Ridge Stellar's Jay

$19

$90

Okanagan, Canada

Rose

Niagara Peninsula, Canada

White

Dr. Loosen Riesling

$15

$70

Mosel, Germany

Catalina Sounds Sauvignon Blanc

$16

$72

Marlborough, New Zealand

Terra Alpina Pinot Grigio

$18

$85

Trentino-Alto Adige, Italy

St. Franis Chardonnay

$18

$85

Sonoma County, USA

Enomatic White Selection

William Fevre Petit Chablis

$23

$104

Chablis, France

Merryvale Starmont Chardonnay

$25

$110

Napa Valley, USA

Red

Lyric Pinot Noir

$20

$105

Santa Barbara, USA

Rodney Strong Merlot

$17

$80

Napa Valley, USA

Bocelli Sangiovese

$15

$70

Tuscany, Italy

Chateau St. Michelle Cabarnet Sauvignon

$17

$78

Colombia Valley, USA

Enomatic Red Selection

San Polo "Rosso Di Montalcino"

$25

$116

Tuscany, Italy

Zero-Proof Cocktails

Simply Orange | $14

Seedlip Spice, Orange Syrup, Lemon Juice, Ginger Ale

Garden Mountain Caesar | $15

Garden Seedlip, Worcestershire, Siracha, Horseradish, Clamato Juice, Pickled Delicacies

Raspberry Mojito | $15

Lime Juice, Simple Syrup, Fresh Raspberries, Fresh Mint, Soda Water

Housemade Ginger Ale | $14

Lemon Juice, Honey Syrup, Fresh Ginger Purée, Soda Water

Beer & Cider

Peroni Pale Lager | $10

330ml | Vigevano, Italy

Brewster's Hawaiian Coconut Porter | $10

355ml | Calgary, Alberta

Folding Mountain IPA | $10

473ml | Jasper, Alberta

Folding Mountain Alpine Cranberry Sour | $12

473ml | Jasper, Alberta

Lonetree Dry Cider | $9

355ml | Okanagan, BC

Glutenberg Blonde Ale | Deglutenized | $12

473ml | | Montreal, Quebec
Vegan options available upon request.
Please advise your server of any dietary concerns, as not all ingredients may be included in the menu description.
To make your reservation, please contact Concierge at 780 852 3301, dialing 54 from your hotel room phone or visiting the Main Lodge.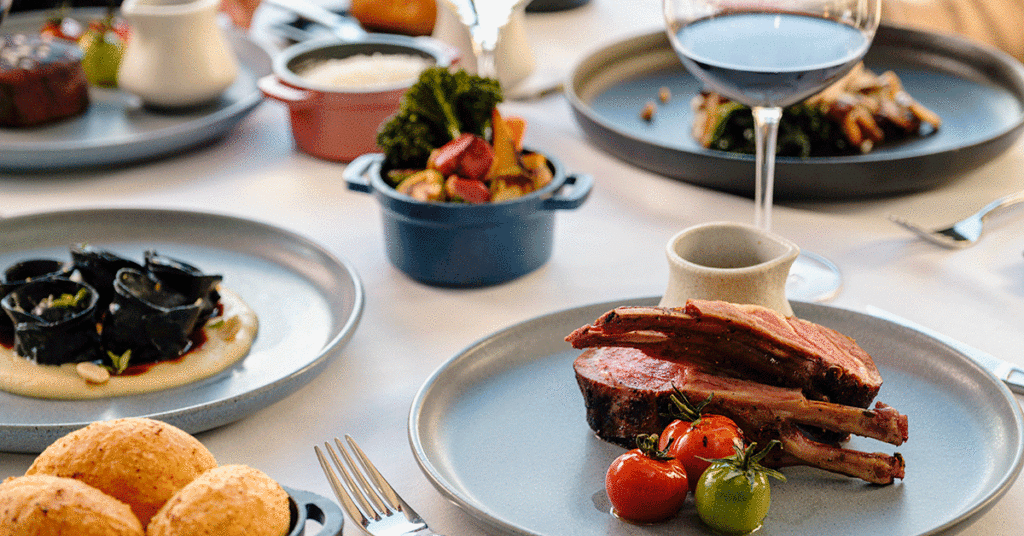 Deliciously rustic Italian fare is the star at Orso, a casual spot with sophisticated menus and postcard panoramas of the blue-green lake and snow-capped peaks.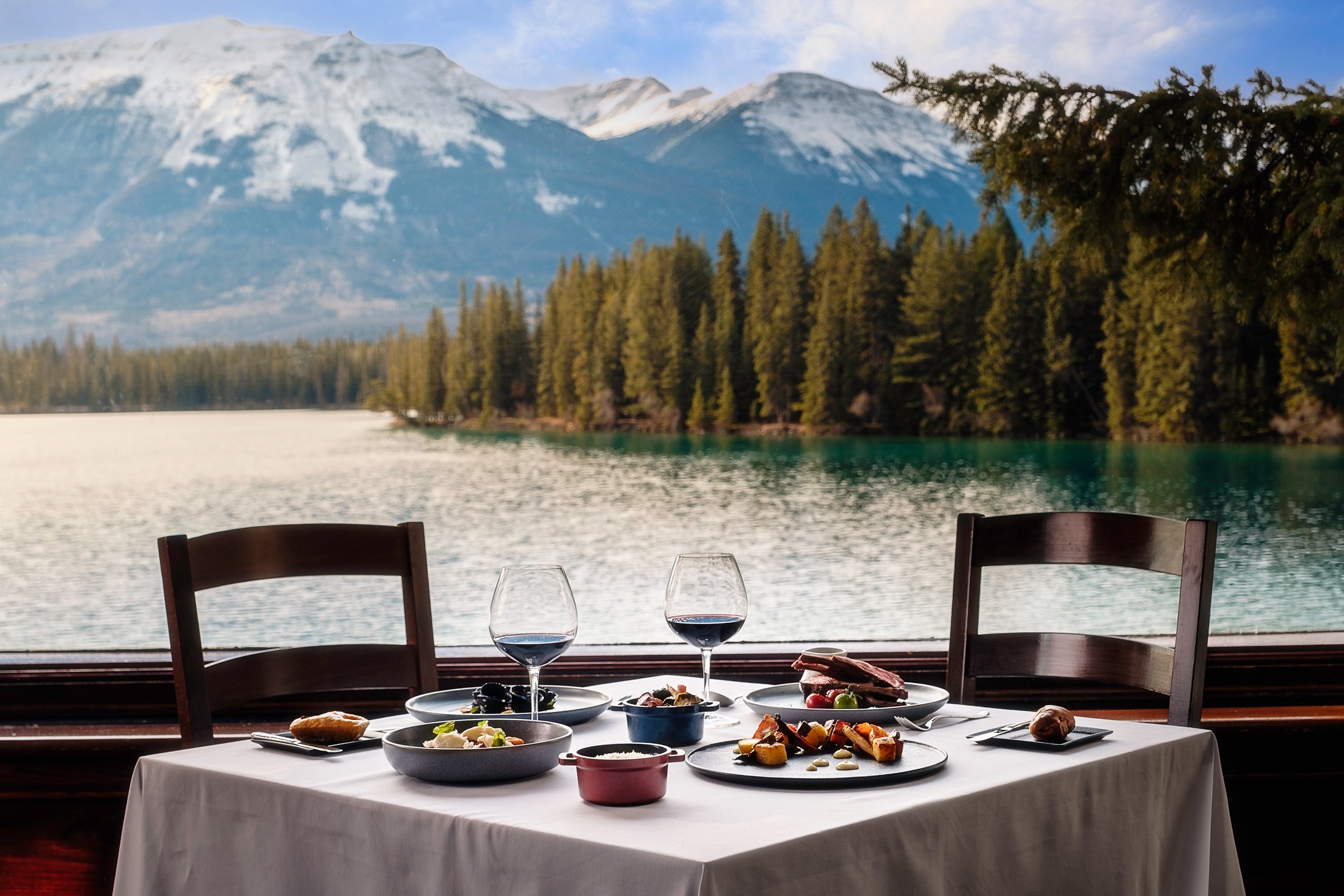 Experience deliciously rustic private dining in Jasper's Best Italian Restaurant. Enjoy Northern Italian dishes and some of the very best views of Jasper's pristine wilderness setting.