Celebrate
Christmas in the Rockies
As the saying goes "Home is where the heart is" which is why Jasper makes the perfect Home for the Holidays.
Join us here at The Lodge for the Festival of Christmas, a truly heartwarming holiday time in the land of a million Christmas trees. With thousands of twinkling lights and endless family fun activities, we can't think of a better gift for the whole family than to spend Christmas in the Rockies.
Escape the hustle and bustle of the busy city and retreat to the solitude of the picturesque Jasper National Park. Skate on beautiful Lake Mildred and enjoy a warm hot chocolate by the roaring fire in The Emerald Lounge. Glowing from inside-out, the halls and walls are decked with tinsel and garland, sparkling lights and festive décor. It is a truly spectacular sight, that is the Festival of Christmas. Even Mr. and Mrs. Clause take a break from the North Pole to visit Santa's Cabin here at the Lodge.
Festival of Christmas Offer | Ready for an unforgettable Christmas Vacation in Jasper? Book Now.
That Festive Feeling
Santa's Cabin
Ho ho ho – come on in! Santa and Mrs. Claus are checking in to their favourite Fairmont Jasper Park Lodge cabin! They have been travelling far and wide. But their final stop just before Christmas Night is here, under the Home for the Holidays sign. They park their famous sleigh and reindeer here at Jasper Park Lodge and settle into their cabin, eagerly awaiting visitors. Bring the whole family to meet Santa and Mrs. Claus in their beautifully decorated Christmas cabin. Bring your wish list and snap a picture together – they have plenty of holiday treats to share.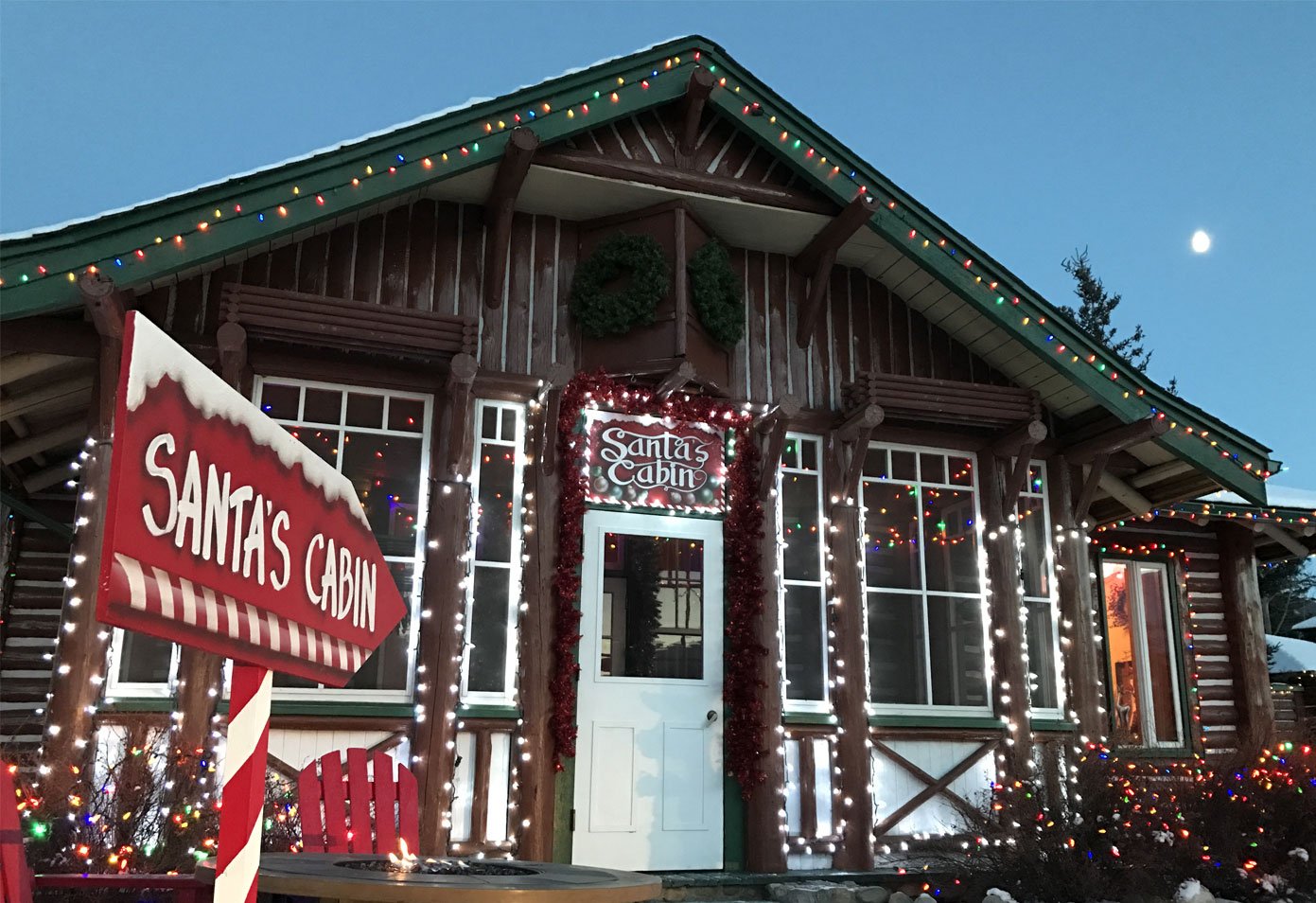 Dashing Through the Snow!
Grab your trusty steed of a sled from our Winter Activity Centre and hit the snowy Rocky Mountain slopes. Embrace the frosty air that kisses your cheeks pink! There is nothing better than a fresh sheet of fluffy snow to make for a speedy slide. So when you wake up to a winter wonderland, be sure to add tobogganing to your daily itinerary. These hills might not be as daunting as our mountain marvels, but the downhill sprint is an activity that is fit for the entire family. The more the merrier! Take everyone out for a leisurely ride or make it a Christmas Eve tradition. Or take turns racing to the bottom of the hill. Ready? Set. GO! Last one down buys a round of hot chocolate!
Whether you're trying to summit a new peak or prefer a steadier slide, our National Park is known for its epic skiing conditions and top-of-the-world views. Just a short drive away is Marmot Basin, Jasper's well-known ski hill, fit with uncrowded groomed slops and 86 trails to explore and conquer. Did you know Marmot Basin is Canada's highest base elevation at 1,698 m (5,570 ft)? It is truly a bucket list hill that skiers and snowboarders alike will want to explore this season!
Local Tip
If you're looking for mountains of adventures with less of an incline, our resort turns into a winter wonderland with groomed cross country ski trails tracked as snowfall permits on our golf course and Lake Mildred.
Stroll Through the Gingerbread Village
Candy canes, gum drops and snow-white icing; it's a sweet tooth's dream! Our talented chefs and culinary teams build and design the grandest of Gingerbread Houses, even more whimsical and festive each year. Take a stroll past the Emerald Lounge where our Gingerbread Village lives. Gain some inspiration for your own Gingerbread creation or simply smell the sweet aroma of this classic festive cookie. Although incredibly tempting, these Gingerbread houses are not meant for eating—remember Santa is always watching. Don't forget to cast your votes for your favorite house and wait to see if your choice wins!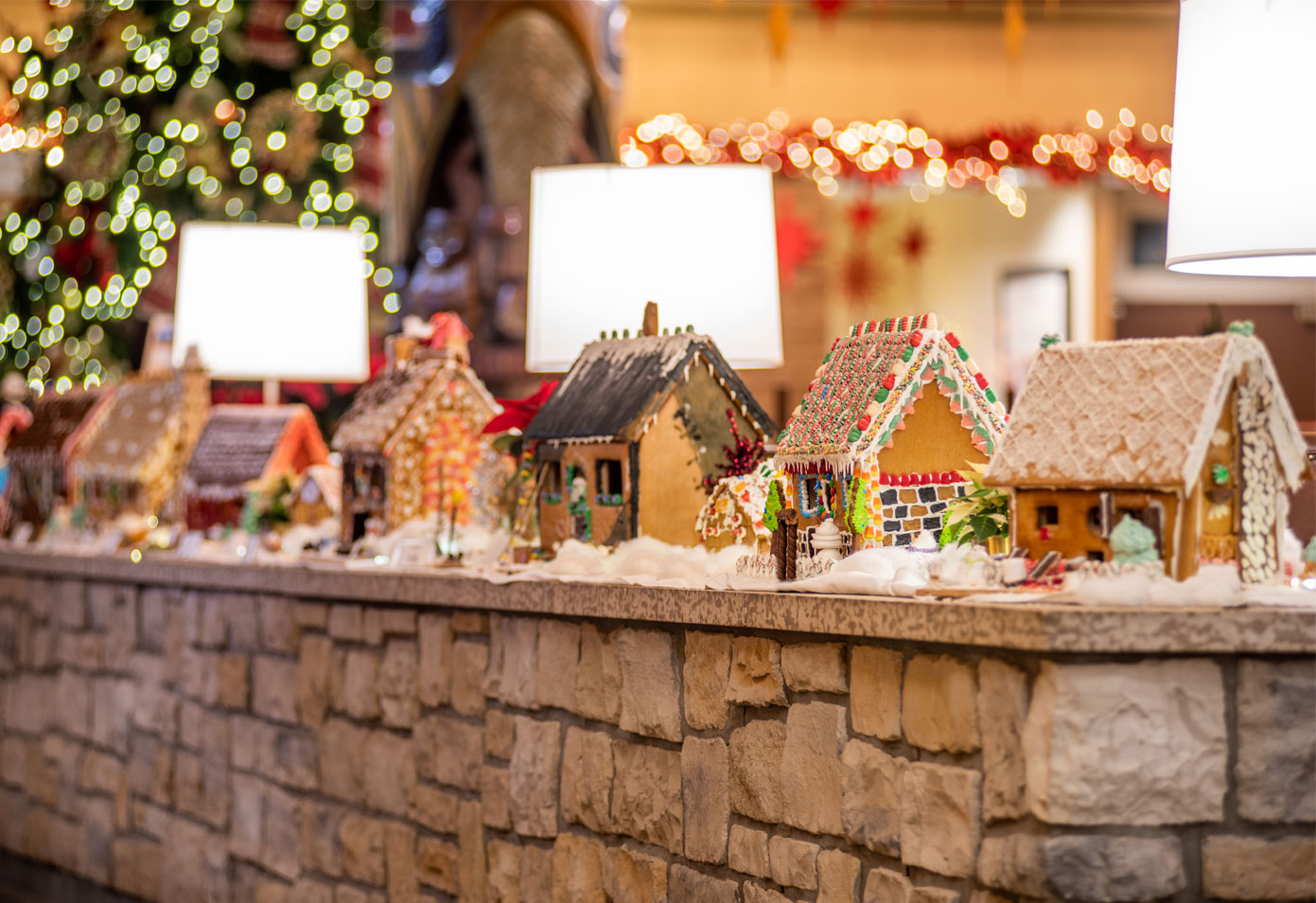 Festive Pool Party
Spreading holiday cheer in the most unexpected way, DJ Claus hosts this year's Festive Pool Party. Take a dip and lounge in sweet style on floating peppermints and twirl to the tunes of rockin' Christmas carols.
Last-Minute Letters to Santa
No need to fret if you have left those letters to Santa to the last minute. In Jasper, we have something faster than express postage; the big man himself has his very own mailbox here at the lodge which he checks every day! Drop off your letter to Santa Claus in the Main Lodge and your personalized reply from Santa himself will arrive via Reindeer Airmail, delivered the very next day to your room.
Dance on Lakes of Glass
Spin, glide, and twirl around Lake Mildred as the 360-degree mountain range wraps around the groomed rink—complete with sparkling snowy peaks. Incredible photo opportunities at every angle (exclusive to the winter season) await! Warm up later at La Cabane Ice bar. Whether your preference is a toasty hot cocoa loaded with marshmallows and candy cane pieces or a frosty glass of JPL lager, both are sure to keep you light on your feet throughout your lake skate.
Say Cheese!
Need a new family photo for your next annual Christmas card? What better place for a festive photo than in the picturesque Rocky Mountains this winter? Show up in your best attire for a beautiful family portrait or show your fun side with matching Christmas sweaters. Remember to bundle up for the frosty winter weather as you make your way over to Santa's Cabin, where we will turn a family moment into a long lasting, takeaway memory.
S'mores Under the Stars
Bundle up under a blanket of stars next to a warm cozy fire, sipping on hot chocolate and making perfect s'mores every night. If you're up for it, chime in on some Christmas Carols as you enjoy a sweet treat in the silent night.
Eat, Drink & Be Merry
Our Christmas dining options beckon you to experience a holiday season like no other from the first sip of warm hot chocolate to the last decadent bite of gingerbread. We invite you to relish the joy of the season and create unforgettable moments.
Enjoy a traditional bubbling pot of gruyere fondue at The Nook alongside an array of dipping favourites including apples, fresh bread, veggies, meats and more! Après, swap the fromage for a sweet delight, a bowl of rich chocolate fondue and confectionary parings. Savour it all next to the grand crackling fireplace – the perfect way to warm up after a day of snowy adventures.
Indulge in the classics – Christmas brunch and dinner spreads featuring seasonal dishes that ignite nostalgia and keep you out of the kitchen. For a refined touch, partake in festive Afternoon Tea or if you are seeking adventure, La Cabane Ice Bar offers skate-side beverages sure to keep you toasty and warm out on the rink.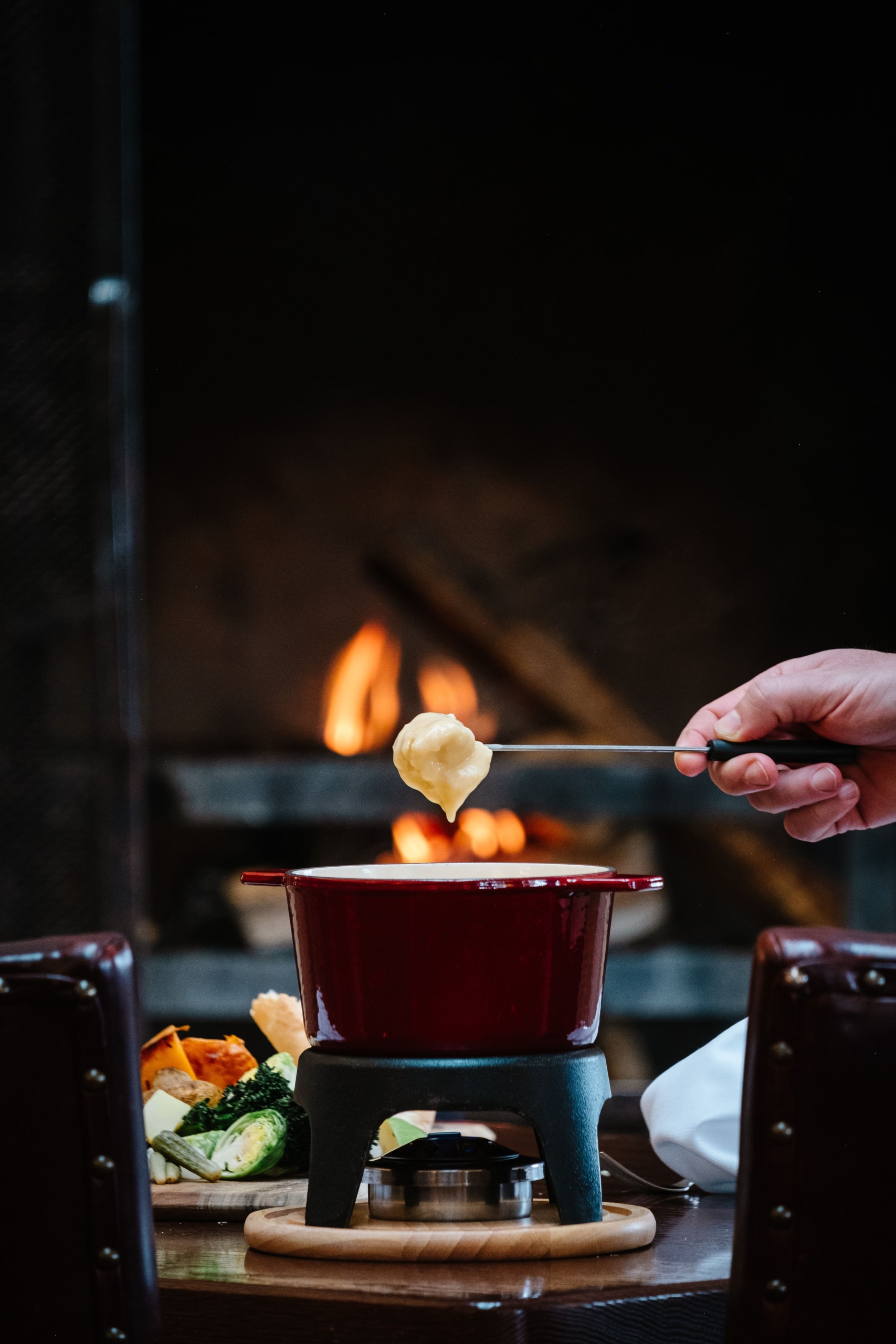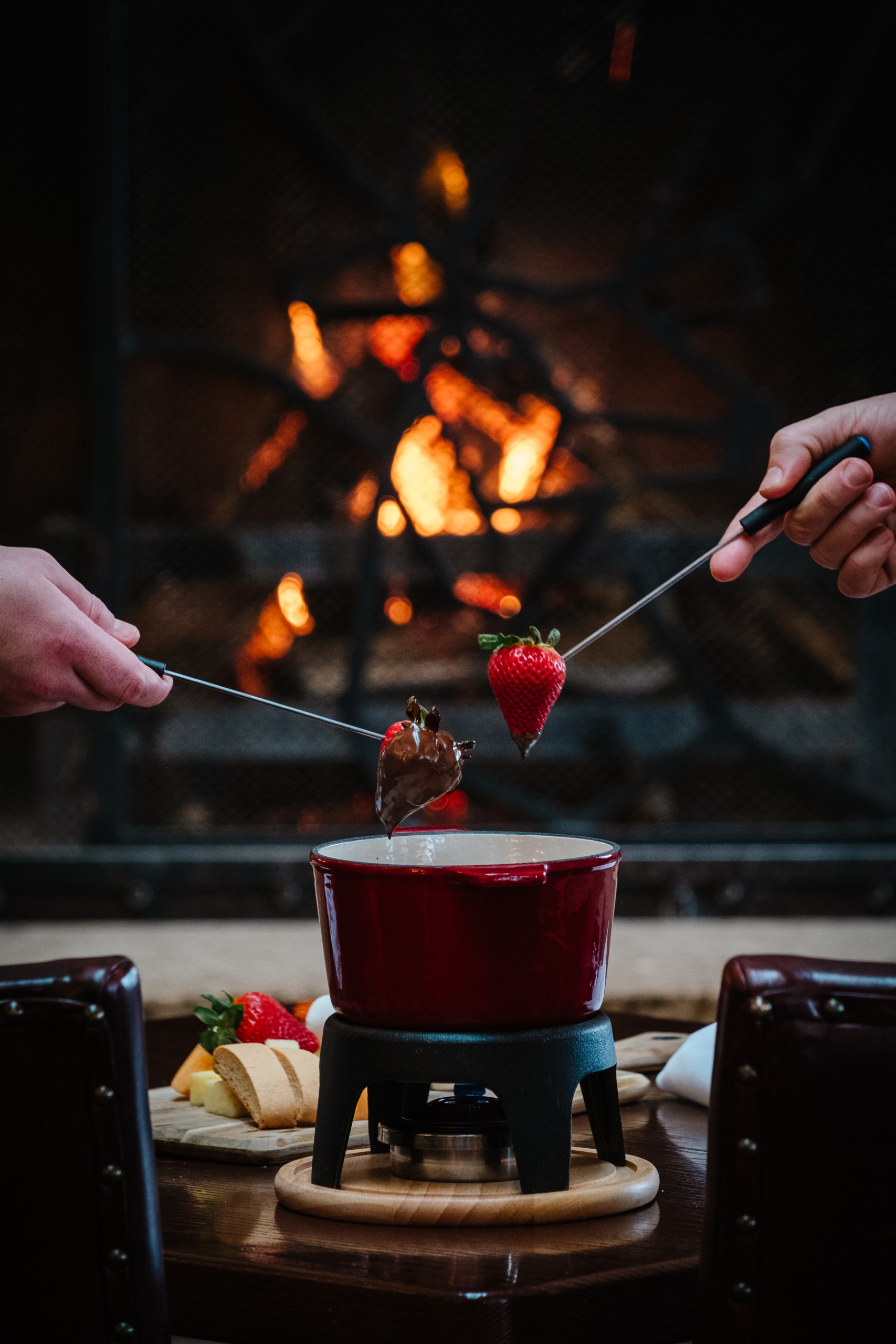 And a Happy New Year!
As we bid a fond farewell to another year, we come together in celebration and anticipation of a new year!
Indulge in a dinner buffet before stepping into a world of mystery and glamour at our New Year's Eve Midnight Masquerade Party! As the clock strikes midnight, don your most exquisite mask and join us for an evening of enchantment, elegance, live music, dancing, sparkling and more.
We Wish You a Merry Christmas
Christmas is magical in Jasper. Softly falling snow, thousands of twinkling lights, and of course, a visit from Santa. However you choose to celebrate, we hope the holiday memories you create here are treasured for years to come!