Celebrate
Spring Break in the Rockies
Spring Break at Jasper Park Lodge
Welcome to the Rockies, your break from everyday life starts here. It's a chance to reset, relax and reconnect.
We are bringing the great outdoors to the Lodge with an itinerary packed full of true Canadian wilderness experiences and activities!  Ready to venture off the resort? Plan a day trip to Marmot Basin for a spring ski sesh or take on Jasper from falls to canyon walls. If your clock is set to R&R, float around the outdoor heated pool or recline amid the bubbles of the jetted hot tub after a treatment at Fairmont Spa.
Family Fun
Bring your best campfire stories with you as you gather around to roast marshmallows, enjoy ooey-gooey s'mores and sip on rich hot chocolate. Find your zen and balance during a family yoga class or get the pool party started by heading down to the outdoor heated pool for some family fun in the sun. Learn more about our Spring Break activities happening all week long!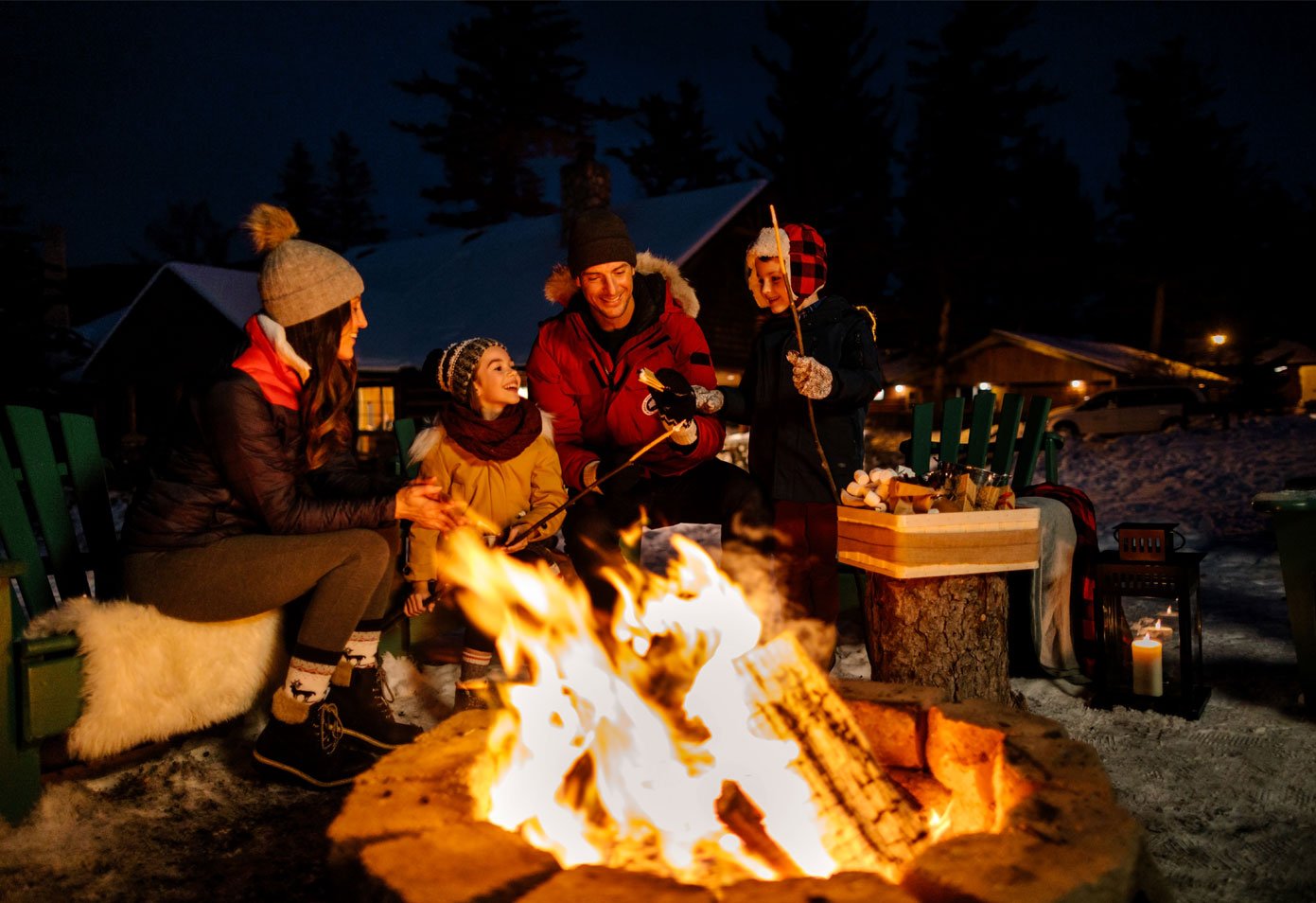 Spring Ski Trip
As the river returns to a rush, and the birds begin to sing their song, the sounds of spring are a tell-tale sign that season is upon us! Up on the mountain tops, superb conditions of powdery peaks and sunny rays make for the best ski run of the year. The weather sways from a crisp winter breeze to fresh spring air as you travel from peak to base. Big bold mountains are now bordered by beautiful blue skies that deepen the rugged yet breathtaking view of the rocky horizon.
As always, you will find yourself escaping the crowds and long lines, the peaks are yours to explore. Start at the schoolhouse hills or venture to the black diamond runs. Whether you're a thrill-seeking expert or an easy glider, there is something for everyone among these spring seasoned slopes!
Jasper in Bloom
The budding liveliness returns to Jasper as lush water ways find their flow and curious wildlife come out to say hello! Welcome back spring, we've been expecting you! Like every season, springtime in Jasper is followed by the awakening of adventures, fresh sights and sounds and memories waiting to be made. From the canyons to grand waterfalls, vast lakes to reaching peaks, there are limitless opportunities to explore Jasper National Park!
Maligne Canyon
Explore the wonders of Maligne Canyon. Stare into the depths of the worn canyon walls and follow the trail from bridge-to-bridge crossing paths with new sites high and low!
Athabasca Falls – Frozen or Flowing?
Noted as one of the most powerful falls in the mountain national parks, Athabasca Falls is as iconic as they come. The wavering spring weather transforms the falls every visit! Venture upon a sparkling icicle overflow or an endless stream of glacier fed water. Frozen or flowing, this waterfall is breathtaking and a must-do this season!
As Fresh as Spring Air
We know how to do 'me-time' right at Fairmont Spa. Tune out the world and enter a state of tranquility in the caring hands of our spa experts. Replenish your skin with awakening treatments that leave you feeling as fresh as spring air! Stimulate your senses in the eucalyptus steam room, defrost in our dry sauna or bathe in the bubbly waters of the outdoor hot tub. Take a few extra minutes to decompress in our spa lounge as you gaze out the big bright windows to the magical mountain view beyond.
All Things Spring
The Jasper winter is washing away leaving roaring rivers and a warm blossoming spring in its place. Spring has sprung and a new season of fresh adventures is ready for you at Jasper Park Lodge! Explore spring offers, adventures, events and guides to the spring season in Jasper!