Celebrate
A Romantic Day in the Rockies at Jasper Park Lodge
#FairmontLovesFebruary. Embrace the season of love in the Rockies on your perfectly planned Valentine's Day date. From delightful dining experiences that bring you closer together, to exhilarating outdoor adventures that form deeper connections, the unmatched magnetism of this grand mountain escape will draw you together and have you feeling like the last two people on earth!
The Key to Your Heart (and your Room)
Picking the perfect accommodation will set the stage for the entire stay. Step away from everyday life and depart into the great outdoors to an alluring cabin nestled in the Canadian Rockies. Athabasca Cabin, meant for no more than two, is a romantic hideaway, perfect for couples looking to relax, unwind and treasure intimate moments together. Recline amid the bubbles of your private jetted tub or let the fires of love warm the space between you while the crackling wood fireplace roars.
Dinner for Two
That's Amore! Transport to the romantic corners of Italy and dine under flickering candlelight as your taste buds tingle over the flavours of this exclusive 5 course prix-fixe menu. Inspired by affection, this Valentine's Day weekend tasting experience takes place in the intimate enclave of Orso Trattoria. Fresh seafood dishes incite desire while a sweet citrus sorbetto keeps things cool. Gaze through our cascading windows and view the starlit sky over the frozen Lac Beauvert or simply admire each other in the low light of your romantic surroundings.
*Available February 14 only
If your appetite is craving a more relaxed experience or you just want to switch things up for date night part two, you can cozy up in The Great Hall. Start at the bar and lust over oysters bathed in your choice of Champagne Mignonette, fresh lemon Juice or cocktail sauce. Pair with an invigorating glass of Veuve Clicquot or select a signature cocktail from our winter menu. Move fireside for a Surf and Turf classic and then finish the night sweeter than it began. Share more than just your passion for each other while you dip into the sultry Molten Lava Cake, spilling with decadent sweet chocolatey flavours.
*Available February 10 – 16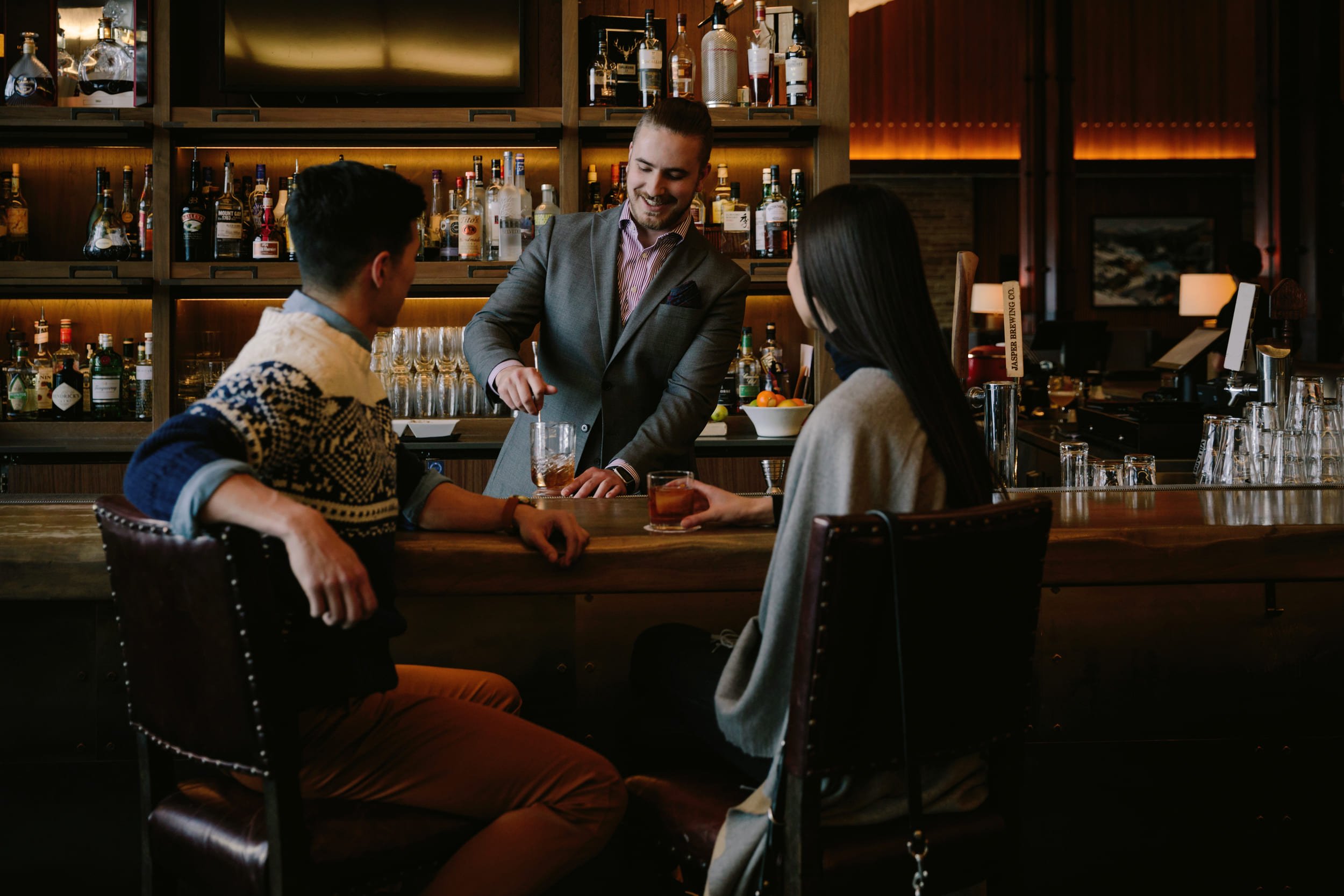 Romantic Winter Adventures
It's time to find delight in the world outside of your cabin and take in the destination. It is all about the experiences you share together! Explore hand-in-hand as you snowshoe, skate, or stroll the many trails covered in sparkling snow, all within steps of your cabin door.
Take your relationship to new heights as you summit ski hills at Marmot Basin or form a deeper connection in the caves of the icy Maligne Canyon. Ignite a connection as you adventure through the grand surroundings of Jasper National Park.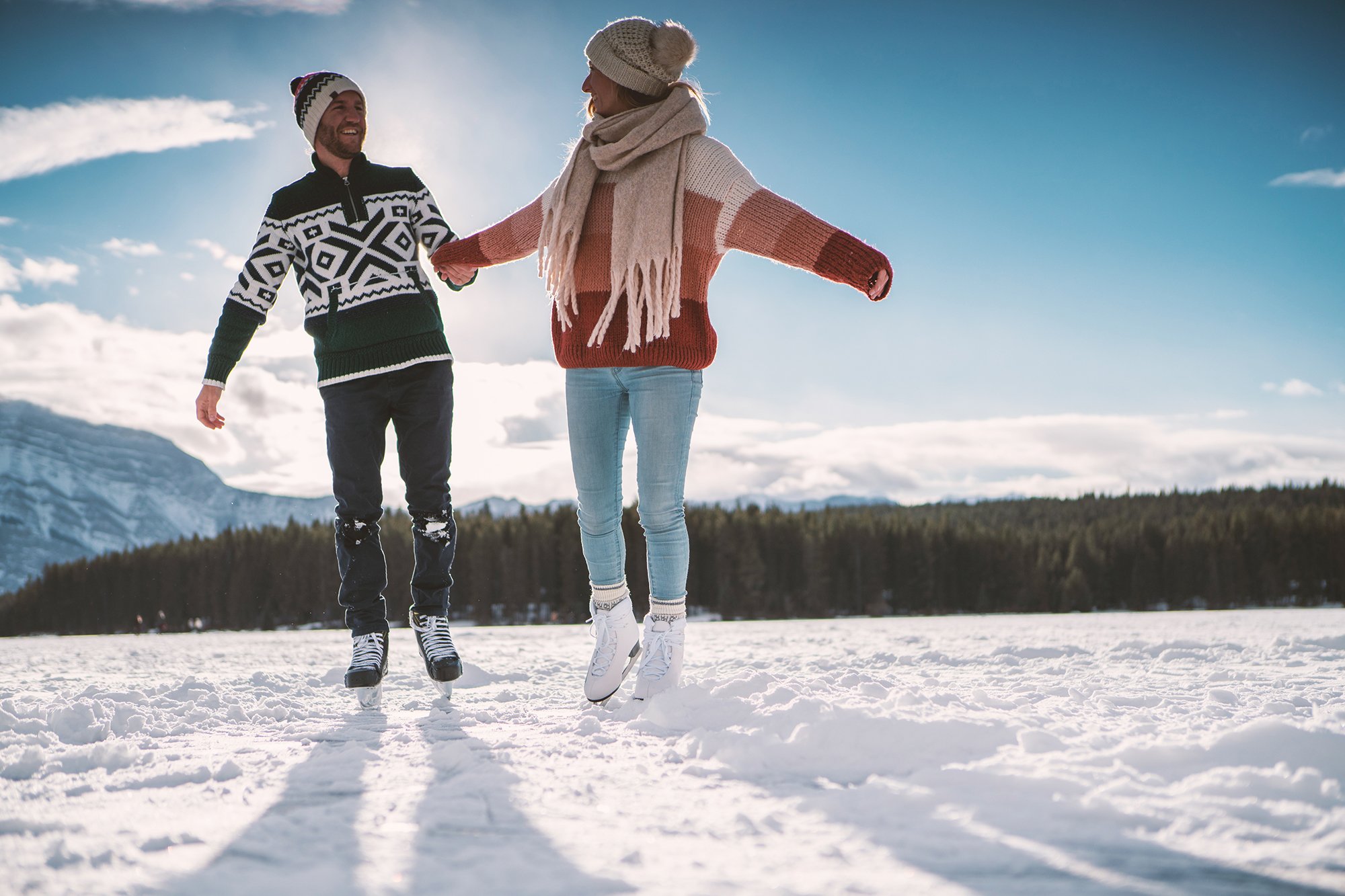 Find Time to Unwind
Unwind in luxury with your partner as you amp up the romance with soothing couples' treatments. Allow our velvety soft Fairmont robes to kiss your skin as you wander down to Fairmont Spa. Pamper yourselves with deep tissue massages, hot stones, and private pools for a unique Valentine's date that will leave you feeling revitalized and reconnected all month long.
In need of some self-love? Lounge amongst the euphoric aromas of the Eucalyptus steam room.
Room Ready Amenities
For a little extra 'something something', surprise your sweetheart with chocolate covered strawberries and a bottle of bubbly, ready in your room before you settle into your cabin.